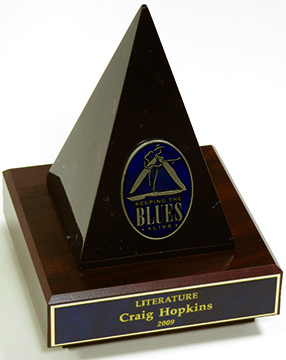 Press release November 9, 2008:
S.R.V. author/historian Craig Hopkins to receive Blues Foundation's 2009 Keeping the Blues Alive Award
The Blues Foundation announced today the 2009 KBA Award for Literature will be presented to Texas author and historian Craig Hopkins for his works regarding legendary guitarist Stevie Ray Vaughan. What began as a quarterly newsletter in 1993 and website in 1997 led to three books: The Stevie Ray Vaughan Anthology (1996), The Essential Stevie Ray Vaughan (2000) and Stevie Ray Vaughan: Day By Day, Night After Night (2008). The latter volume chronicles the guitarist's entire life in 432 pages and almost 1000 illustrations. More than one hundred of the people closest to Stevie provided interviews and photographs. The intimate portrait of Vaughan details his rise from humble beginnings, inspirational recovery from substance abuse to sharing stages with the blues legends he idolized – Albert and B.B. King, Johnny Copeland, Albert Collins and others. The book, available only at www.StevieRay.com, is a must for everyone who loved the passion and energy of Stevie Ray Vaughan.
The Blues Foundation's Blues Music Awards® represent the nation's highest accolade afforded musicians and songwriters in blues music. Non-performers important to the blues world are honored with the Foundation's annual Keeping the Blues Alive (KBA) Awards.
The Blues Foundation presents the KBA Awards to individuals and organizations to recognize the recipient's lifetime body of work that has made a significant contribution to the blues world. The KBAs are awarded strictly on the basis of merit by a select panel of blues professionals. The Blues Foundation will present the 2009 KBA Awards Saturday, February 7, 2009, at the Doubletree Hotel in downtown Memphis, Tennessee, during the International Blues Challenge weekend.
Past recipients of the KBA for literature include Robert Palmer, B.B. King and Dave Ritz, Honeyboy Edwards, Bill Wyman, Robert Gordon, Dick Waterman and Peter Guralnick among others.
### <End of press release>
Remarks by the author, Craig Hopkins, November 9, 2008:
Stevie Ray Vaughan, a skinny kid from Oak Cliff, Texas, rose from humble beginnings to share stages with his idols – B.B. King, Albert King, Albert Collins, Hubert Sumlin, Johnny Copeland, Eric Clapton, Jeff Beck and many others. His idols became his peers and accepted Stevie as one of their own. He gave us the gift of his music. But also important was his example of recovery from substance abuse – a story that continues to inspire and encourage people across the globe in their struggle and recovery.
It is a remarkable story. My goal was to present it as accurately and completely as possible in the words of those closest to Stevie. After seeing the book, one musician told me, "There are men put in the world's clock in order to see another man's time – a man of worthiness, a life of inspiration captured and preserved by another heart with a sense of mission and passion."
To preserve this portion of music history for future generations has been a joy and privilege, but I share the recognition with hundreds of interviewees, photographers, collectors and fans who have helped me create this chronicle of one of the greatest guitarists of all time. I extend special thanks to Stevie's mother Martha Vaughan, his former fiancé Janna, the members of Double Trouble and my proofreader Donna Johnston .
Having written a work of nonfiction, I owe everything to the man whose life is documented – Stevie Ray Vaughan. Among the professional achievements in my life this award ranks with having argued and won a case in the United States Supreme Court. But that awesome experience in court was a job. My activities over the past 15 years regarding Stevie Ray Vaughan grew out of a passion for music. To be recognized for contributing something to a part of the culture which means so much to me is very special.
Stevie Ray Vaughan helped keep the blues alive. His story will not be forgotten.