Here are a few of my favorite Beatles collectibles. With rare exception, I never collected the mass-market merchandise of the 60's – hair combs, notebooks, pennants, bubble gum cards, you name it. I have always been more interested in the rare and historic items.
SIGNED CUTOUT FROM THE COVER OF SGT. PEPPER'S LONELY HEARTS CLUB BAND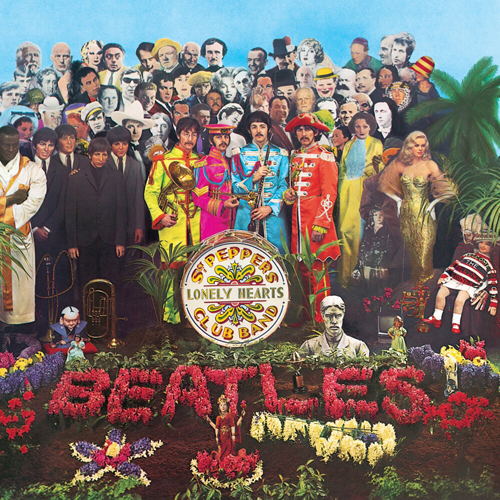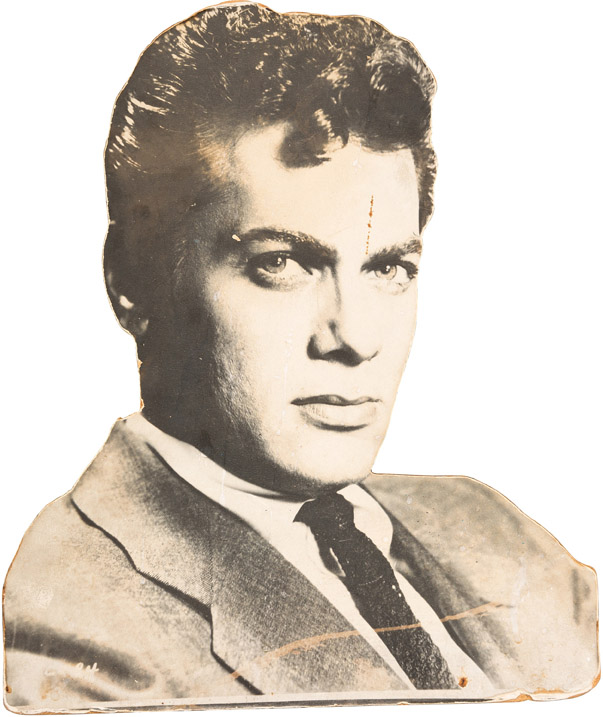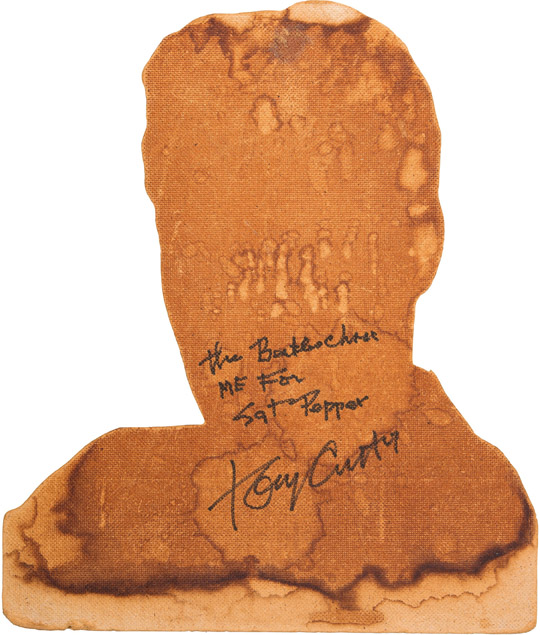 The Beatles' Sgt. Pepper's Lonely Hearts Club Band is arguably the most famous album cover in the world. This is the actual life-size cutout of Tony Curtis used in the album cover photograph. It appears a couple of rows above John's right shoulder. There were 64 cutouts in the final arrangement (two were later airbrushed out), of which only 22 are believed to survive, most having been thrown away immediately after the photo session. This is one of only 6 owned by private collectors (the others belong to members of The Beatles, museums, restaurants and the artists who worked on the cover). Tony Curtis is the only person portrayed on the cover who autographed his own cutout. He signed on the back in 2003, "The Beatles chose ME for Sgt Pepper. Tony Curtis."
"But," you may say, "on the album cover Tony Curtis is a colorized photo, and this cutout looks black and white." All the cutouts were black and white photos, and some were hand-tinted just like was done in the days before color photography. Unfortunately, after 50 years of exposure to light, the color has faded significantly on most of the tinted cutouts that survive. I tracked down the man who actually hand-tinted most of the cutouts, and he confirmed that there was only one of each cutout and that this is the original Tony Curtis used on the album cover. Previous owners did not know this. The cut-outs were very expensive to create in 1967: obtaining permission from the celebrity, sourcing a suitable portrait, enlarging the image to life size, mounting to hard board, cutting them out by hand with a saw and then hand-tinting with dyes.
It is an amazing piece of what is widely regarded as the most significant album cover artwork in history.
JOHN LENNON'S GUITAR PICK FROM ONE OF
THE LAST BEATLES CONCERTS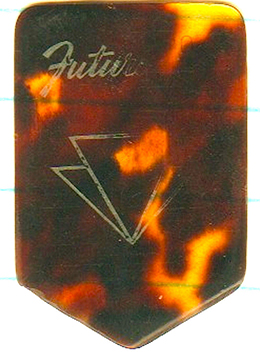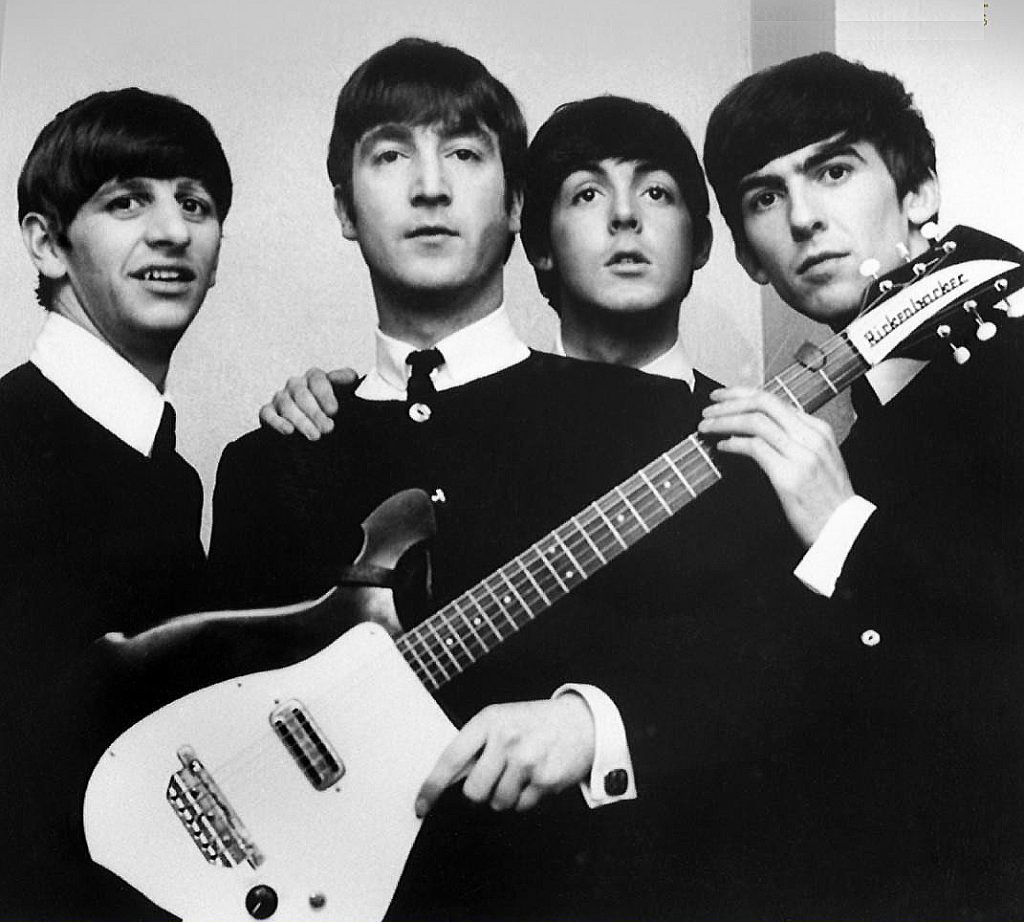 You should be skeptical, just as I was. This appeared in an online auction, and I ignored it for about a week, thinking, "Yeah, right." I finally contacted the seller and asked him to explain why I should believe this was John Lennon's guitar pick. After all, there must be hundreds of guitar picks like this. Here is a summary of what convinced me and other Beatles experts:
First, the guitar pick itself dates to the 60's, as confirmed by a major guitar pick collector and dealer. Second, if you are an American guitar player you will notice the shape of this pick is not one that was routinely, if ever, sold in the U.S. It is known as a Burt Weedon style pick from England. Third, extensive research reveals that this is in fact the type of guitar pick John used, though that was not easy to determine. I have found only one photo that clearly shows the shape of the pick (above), and only two references to his picks in Beatles literature. So very few people would even know this is the style of pick John used.
So far it's just a Burt Weedon guitar pick like the ones John Lennon used, but the story gets better. The man who was selling the pick is the son of The Beatles' dry-cleaner when they stayed in Los Angeles during their last week of concerts (ever) in 1966. Every morning he and his father would go to the place the band was staying and pick up their clothes for dry cleaning. Every night, they took the clean clothes back to them. The story has gotten more interesting, but we're not there yet.
The son was 12 years old in August 1966, and a Beatles fan. Turns out he has photos of himself, taken by his mother, wearing three different sports jackets that are clearly identifiable as belonging to John Lennon. That was the clincher, but there's more. He pulled other things from John's pockets and still had them: chewing gum stll in the wrapper (John was notorious for chewing on stage), and two notes from a fan – one addressed to John and one to Paul – and one of them was on a 1966 high school football schedule.
To put me over the goal line, so to speak, turns out the son grew up to be in the music business himself. He was half the comedy recording duo Barnes & Barnes, perhaps best remembered for their hit on the Dr. Demento radio show, "Fish Heads." His partner was Bill Mumy, the red-headed boy in the "Lost in Space" tv show. So this wasn't some random, unknown guy. This man is legit, and so it is John Lennon's guitar pick from one of the last concerts The Beatles ever performed. To my knowledge, it is the only one known in a private collection with sufficient provenance.
AN UNUSUAL SET OF
THE BEATLES' AUTOGRAPHS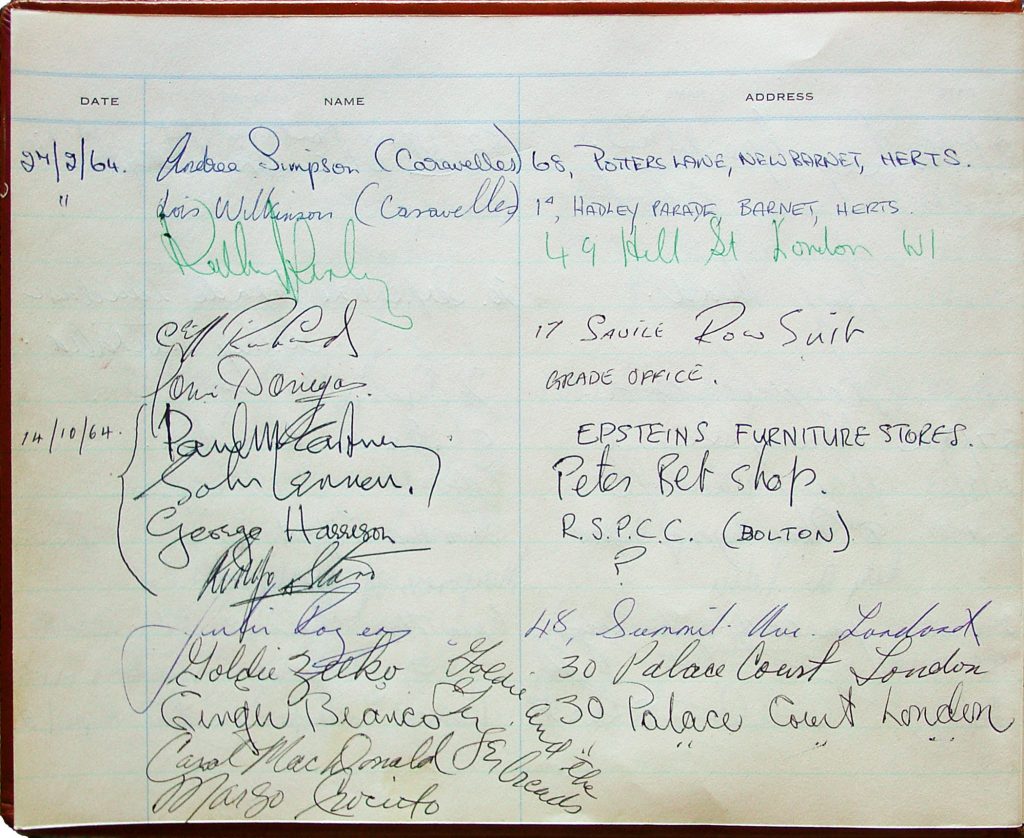 This autograph book, containing over 400 signatures, was kept from 1958 until 1983 by an employee of the Granada Television Studios in Manchester, England. The Beatles are among many celebrities who signed the book, including Laurence Olivier, Dave Brubeck, Liza Minelli, Dizzy Gillespie, Dave Clark, Lulu, Eartha Kitt, Christopher Plummer, Andy Williams, The Bay City Rollers, Twiggy, Shirley MacLaine, Natalie Wood, Joanne Woodward, Victor Borge, Britt Ekland and Larry Hagman.
What makes this set of signatures unique is not their signed names but what else they wrote in the book. The Beatles were known for their quick wit and humor, and this is an exceptionally rare written example, made on the spot for the studio employee.
The first to sign, Paul McCartney added "Epstein's Furniture Stores" as his address – a reference to their manager's family business in Liverpool. Brian Epstein's family owned furniture stores, and it was through the record shop inside one of their stores that Brian first became aware of The Beatles.
Remarkably, appearing just above The Beatles' signatures are those of British rock stars who just preceded The Beatles in fame – Cliff Richard (the "British Elvis Presley") and Lonnie Donegan, who influenced the teenaged Lennon and McCartney. In the address field of the book, Richard had written "17 Savile." John Lennon, not to be outdone by McCartney, added the words "Row Suit," a reference to the fact that Savile Row in London was where the noted tailors and suit makers' shops were located. For his own address, Lennon wrote "Pete's Bet Shop." More on that below.
George Harrison comically added "R.S.P.C.C. (Bolton)" as his address – the Royal Society for the Prevention of Cruelty to Children, in the city of Bolton. Ringo merely added a question mark, perhaps to feign that he didn't remember his address.
It was extremely unusual for The Beatles to add anything to their autographs other than "Love from the Beatles" or "xxx" for kisses to female fans, or inscribing the name of a particular fan. To add humorous wisecracks to the address field of the book perfectly illustrates their personalities as exhibited in interviews and in the movie A Hard Day's Night, which had been released just three months prior to their appearance at the Granada TV studio.
The meaning of Lennon's quip about "Pete's Bet Shop" was not known to me for many years after I acquired this autograph book. While sitting in an airport reading a book written by John's best childhood friend, Pete Shotton, I came to a passage referencing the fact that about this time (late 1964) John had loaned Pete money for the purpose of opening a legal betting shop. It was a "Eureka!" moment. I immediately knew that was what was on John's mind when he signed this autograph.
It also bears noting that by mid-October 1964 when these autographs were signed, it had become quite difficult to get their autographs. The majority of autographs were signed in 1963 when they were still playing small halls and theaters in England and Europe.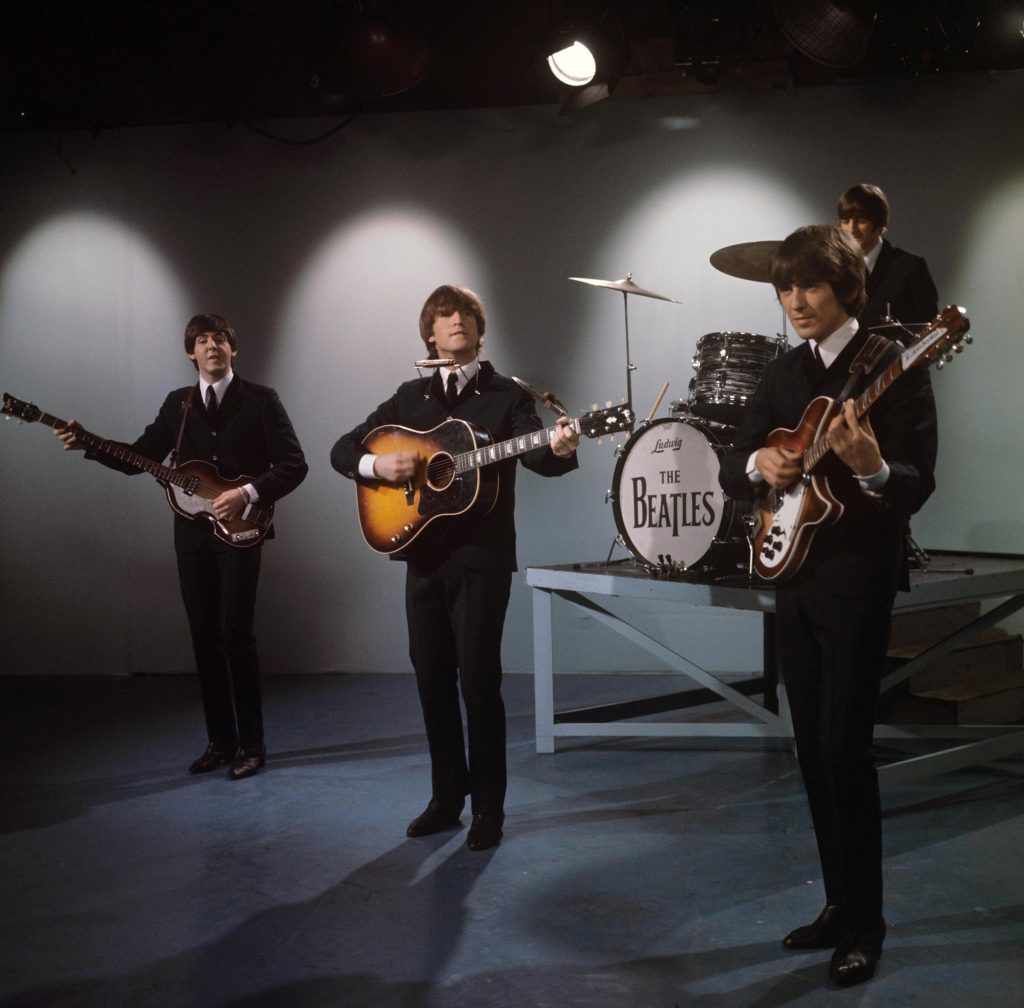 A RARE BEATLES STAGE SET LIST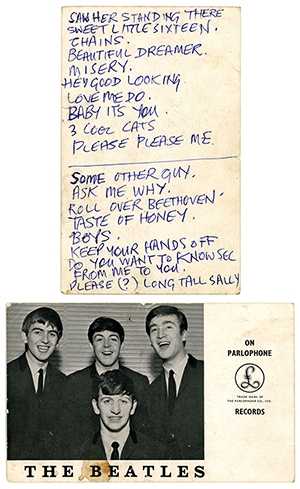 This is a very rare set list written by Paul McCartney for The Beatles' concert at the Azena Ballroom, Sheffield, England, April 2nd, 1963. From the time Ringo joined the band in 1962, there are only 7 set lists written by a Beatle known to exist in private collections outside those still owned by a Beatle or their Estates. Of those 7, this list of twenty songs performed that night is the longest . By 1963, their average show was only 10 or 11 songs, due in part to the fact that they were usually part of a multi-act lineup, sometimes five or more entertainers on a bill.
This set list includes 13 songs recorded by the band, and 9 of 14 from their debut album. It also includes a few songs from their earlier days that would soon disappear from their performances forever. The Beatles' concerts in 1964-66 were typically the same from show to show on each tour, having time only to do their hits. The list is on the back of a Parlophone Records postcard, which is somewhat rare itself.
Below is a photograph of The Beatles at the Azena Ballroom on the night they used this set list.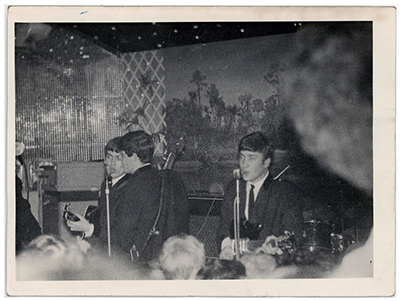 A RARE, SIGNED BEATLES SET LIST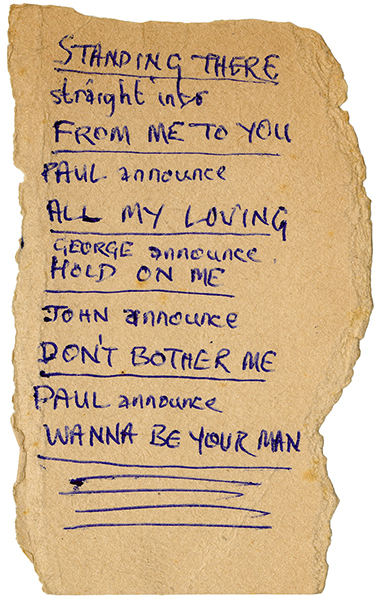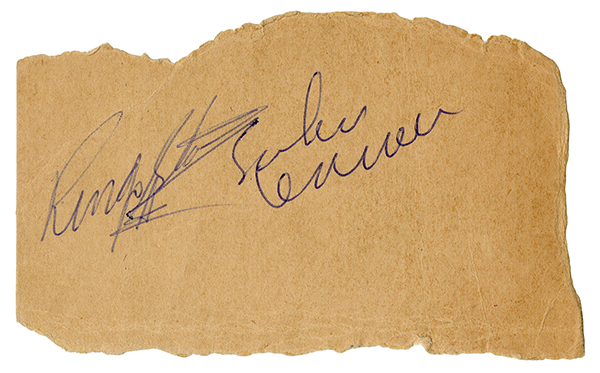 This set list was obtained by a 17-year-old girl the day after a Beatles concert in Cheltenham, England, on November 1st, 1963, outside the Savoy Hotel. She encountered John Lennon and Ringo Starr getting into a limousine and asked for their autographs even though she had nothing with her for them to sign. Ringo pulled this set list out of his pocket, signed the back and handed it to John who also signed.
It is an unusual set list, one of only two known to exist with an indication which Beatle would make certain introductions of songs to the audience. The only other such set list is presumed to still be in the possession of Paul McCartney. It is also one of only three known surviving set lists to be autographed by a Beatle, in this case two Beatles.
The set list shows a marked change in The Beatles' repertoire. Previous shows featured songs from their first album, Please Please Me, and familiar cover tunes. Having just finished writing and recording their second album, With The Beatles, the new songs were featured alongside their previous hits.
The set list from this night, handwritten by Paul McCartney on a scrap of paper, is inconsistent with some known facts about the show. It lists "Don't Bother Me," George Harrison's first composition which had just been recorded for the new album. It is believed that that song was never performed live by The Beatles, and the popular Chuck Berry tune "Roll Over Beethoven" was substituted, possibly at the last minute because George had performed this song many times. In a similar vein, until this tour Ringo usually sang "Boys," but his song on the new album was "I Wanna Be Your Man." It was apparently swapped for his tried-and-true "Boys" after Paul wrote out this set list. The Rolling Stones had released their version of "I Wanna Be Your Man" on this very day. Perhaps The Beatles decided they didn't want to do a "Stones song," even though it was a Lennon-McCartney composition. Or, perhaps they were not quite ready to perform those two new songs. We'll never know why they didn't follow this set list that night.
The list consists of only six songs although they played ten that night. This can be explained by the fact that the list was in Ringo's possession. In preparing for the new tour in support of their new album, Paul may have written out this set list specifically for Ringo's use, so he could anticipate when to position his microphone and be ready to sing his one song for the night. This hypothesis is supported by Paul's underlining Ringo's song five times – something he would not typically do for anyone else's use. With the likely last-minute changes to the set, Ringo probably just left this in his pocket until the next day.
There is one other possibility – it could be a set list from a different concert, and Ringo simply still had it in his coat pocket the day he gave it to the fan.
Another interesting thing about the Cheltenham show is that the local paper the next day may have been the first to use the new word "Beatlemania" in a publication, to describe the fans at the Cheltenham concert. The photos below show The Beatles in Cheltenham, and the newspaper review.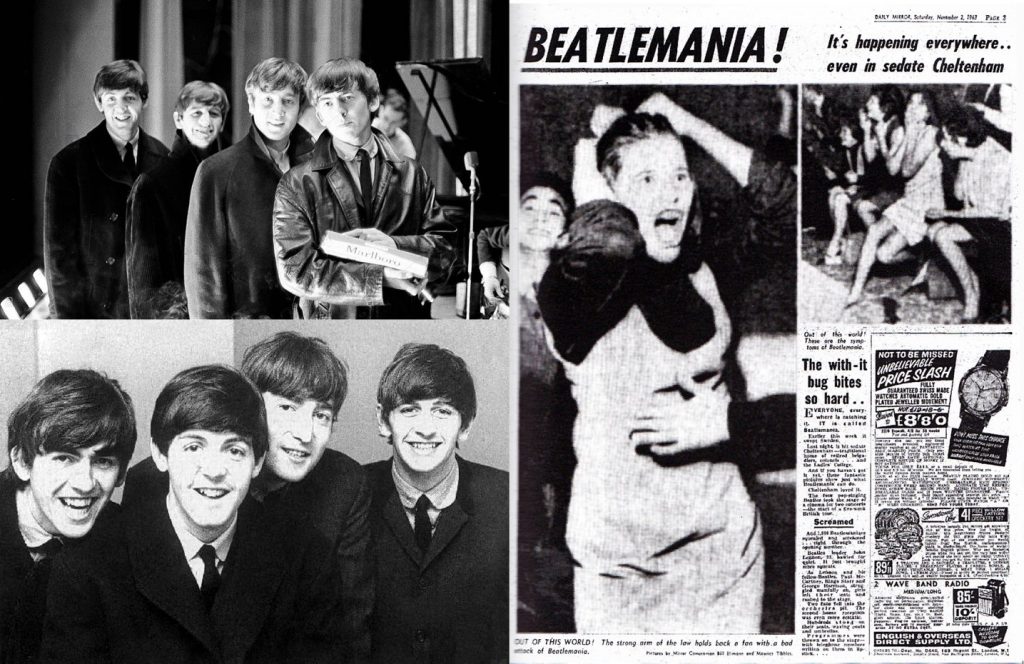 ABBEY ROAD STREET SIGNS
If you have gotten this far reading about Beatles collectibles, you probably know that they recorded in London's EMI Studios on Abbey Road, probably the most famous street in London (quick – name another one). Most people have seen the now-iconic images of the Abbey Road street sign that looks like the photo below: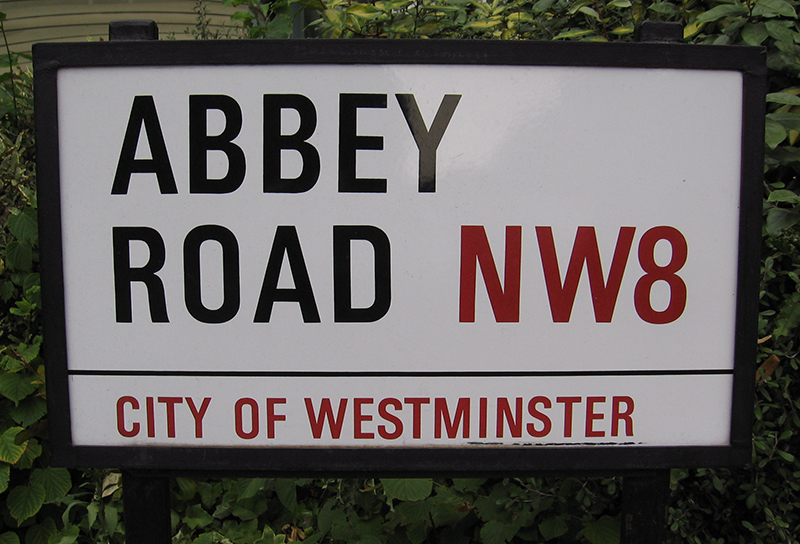 These are metal, embossed signs that varied in size depending on where they were placed. Some were in metal frames anchored in sidewalks, some were mounted high on building walls, etc. I've had a couple of these original street signs over the years. They were stolen from Abbey Road so many times that the City of Westminster stopped replacing them (I didn't do it!). I believe the only ones still on the road that look like this are the ones mounted on the second floor of buildings.
What most people do not know is that for most, if not all, of the time that The Beatles were actually recording on Abbey Road, the street signs looked like this: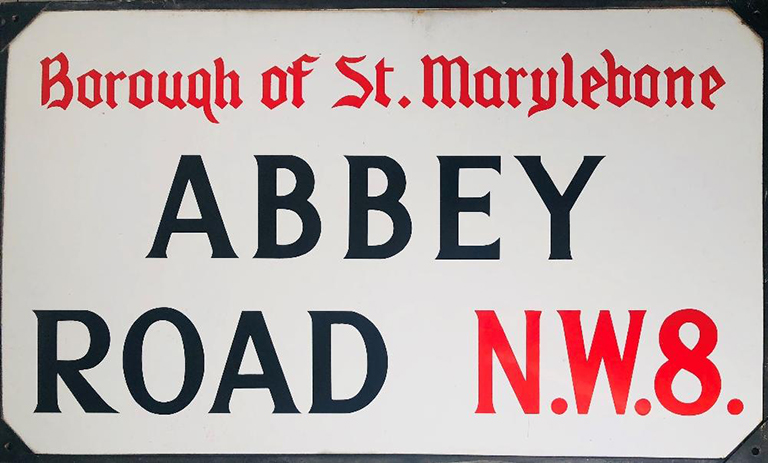 The Marylebone signs were in place from at least the 1950's until 1969 when the Westminster signs replaced them due to a change in city government in 1965 (it took a while for the new city to get around to replacing hundreds of expensive signs throughout the city). They are both genuine Abbey Road signs, but in my opinion the Marylebone signs are much more appropriate as a Beatles-related item. To my knowledge only about half a dozen Marylebone signs have appeared on the market in the past 30 years.