Original site launched in 1998. This site launched on October 3, 2020. A brief description of updates will be posted below. This is an easy way to see what has changed since your last visit.
2023-08-31 I am providing private tours (1 to 3 people per tour) in Dallas of SRV-related sites again after a long pause for the pandemic. See the Events page under the SRV tab in the menu for details, or contact me.
2023-05-23 Added a very rare ticket stub for Stevie Ray's Carnegie Hall show to the items for sale. Only the second one I have ever had, and first I have offered for sale.
2023-05-10 Added to the Photos & Events/Concerts page my "scorecard" of musicians and actors I have seen perform. Can you beat it? I learned early never to say "I'll wait and see them on the next tour."
2023-05-09 Updated information on the guitar Stevie used on MTV Unplugged on the SRV Guitars page of this site.
2023-04-19 Added comments from some who have received their copy of the new book. Click here.
2023-04-18 A new memorial is grand opening on the 22nd in Cockrell Hill, TX, at the location of his first public performance. I will add this to the private tours that I give occasionally (see the Events page of this website). This is a brand new park and mural using photos from my book, and not the "brothers" sculpture that went up in 2021.
2023-04-05 I will have a table at the Dallas Guitar Show, May 5-7, 2023 at Market Hall to sell books and collectibles and visit with Stevie's fans. Come by and say hello! And don't miss my friends Alan Haynes and Andy Timmons on stage. Other don't-miss performers include Eric Johnson and Monte Montgomery. I'm sure there are many others I am not currently familiar with. Gonna be a great weekend!
2023-04-08 Emails, texts and calls have been coming in from those who have received their copy of the book. I am so thrilled that all the comments have been positive! I appreciate every single order, but kudos to Don for buying one and then buying ten more as gifts, and to Andy who bought one and two more as gifts. Thanks!
2023-03-17 Added seven SRV t-shirts for sale.
2023-02-28 I am going the extra mile for you to include in the book additional information about one of Stevie's guitars, discovered after the book was printed. I have had Post-It notes printed and will place one in each copy of the book in my continuing effort to make the book as complete and accurate as possible.
2023-02-09 I have received the first six copies of the book from the printer. If I do say so myself, they look great! Sales in January were good, but there are still plenty available. Go to the menu, or you can click here.
2023-01-07 Orders are flowing in for the book from all over the US, Europe, UK, Scandinavia, Japan and Australia/New Zealand. Thank you! Plenty still available. I have added a new payment link for ordering two copies for USA customers.
2023-01-03 Updated the Stevie Ray Vaughan miscellaneous information page with news of the demise of the Rome Inn.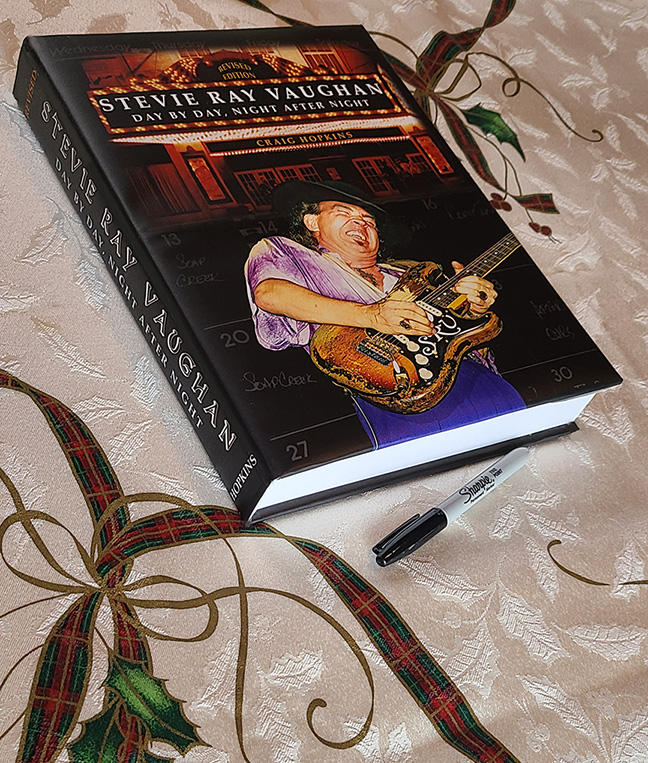 2022-12-22 Happy holidays. Above is a mockup of the revised edition.
2022-11-10 Excellent news today! I have made a deal with a different printer in order to have the book printed on acid-free paper. I have been disappointed in the yellowing of the previous edition's paper after 12 years because it was not acid-free paper. The new edition will be a conservation / museum quality book. I believe that this is the most complete biography of Stevie Ray Vaughan that will ever be published, and it will be created using higher quality materials than all previous editions.
Thanks to the folks who have been spreading the word about the new book on social media!
2022-10-25 Added several of Stevie's guitar picks to the items for sale.
2022-10-25 Just finished a lengthy new interview with Janna for the revised book. After that I need to finalize the cover design and actually place the order for printing. I should be able to begin taking advance orders in the next couple of weeks, starting with those who have recently asked for notification. I am still planning a run of only 500 copies. A word about pricing – it's a big book and printing costs have soared, as have shipping costs overseas. It will be the most expensive book I have produced, but priced well under what some of the collectible limited editions run. The printing costs for 500 is more than what it cost for 3000 copies in 2008!
2022-10-13 BIG BOOK NEWS! Hardcover, 600 pages, new photos, updated concert dates, new information, new interview with Janna Lapidus, plus minor corrections throughout! This time it will be a single volume, not two like the 2010 edition. I am self-publishing a very limited edition of 500 copies only of the revised and FINAL edition of Stevie Ray Vaughan: Day by Day, Night After Night, updated to include never-before-seen photos from the Rock and Roll Hall of Fame induction weekend in 2015. The new cover features one of Robert Knight's historic photos of Stevie from the final jam at Alpine Valley. Use the contact info to sign up for more information and be notified when you can order (it should be in the next few weeks). I need to hear from you to know there is still enough interest for me to go to this huge expense for Stevie's great fans.
2022-05-26 Added photos of the SRV guitar picks I have for sale. I have not had any to sell for some time, so strike while the iron is hot. See the Virtual Garage and Collectibles Sale, Stevie Ray Vaughan page.
2022-05-15 Added to the Virtual Museum: Jimi Hendrix stage-worn shirt, Buddy Holly stage-worn sweater, Beatles "Livingston butcher cover" and Luka Dončić signed jersey.
2022-05-09 Next week I should have six guitar picks for sale with Stevie's name on them, for those who have been asking while I was out of them. These are among the rarer styles – the last of the three early varieties with "Stevie Ray" and no last name. These were ordered by Charlie's Guitar Shop in Dallas ca. 1984-1985. Also, a sale fell through on a Fender pick actually used by Stevie. Let me know if you are interested.
2022-05-09 I have a huge David Lindley archive/collection for sale. Almost 300 items. See the sale page for more details. Will make a huge deal for the whole collection. UPDATE 5/14/2022 There is now a David Lindley Archive page under the Virtual Garage Sale.
2022-04-06 Added a guitar pick used by Stevie for sale.
2022-03-08 I am looking for fans of guitarist and multi-instrumentalist DAVID LINDLEY of El Rayo X, Jackson Browne and Kaleidoscope fame. I just acquired a David Lindley archive of about 150 items from an estate, and it needs a new home. Many autographs, posters, recordings, photos, shirts, etc. Contact me if you are interested.
2022-03-08 I have added another story to the Stevie Ray Vaughan "Miscellaneous Information" page. This time it concerns Stevie recording commercials for Pepsi, and supplements the information in the book.
2022-01-19 I have added a new page to the Stevie Ray Vaughan content, called "Miscellaneous Information." The first post there was submitted by the man who built two of Stevie's amplifiers.
2021-05-24 Updated the Collectibles Museum page with a few sports-related items.
2021-04-19 I have added a page for a home and income-producing real property for sale in Weatherford, TX, 30 miles west of the Dallas/Fort Worth metroplex. It has been in our family for 50 years. Estate sale coming this summer.
2021-3-21 Added another item to the Virtual Museum Beatles page = Cavern Club membership card for 1961. I continue to subtract items from the Virtual Garage and Collectibles pages as items are sold. I'll add some more items eventually. Also, I am negotiating another printing of my book, but even if we agree it won't be out until 2022. It may be somewhat revised and updated.
2021-2-26 I am adding a number of items to the Virtual Museum Beatles page, and a primer on the most important performances they gave. The list was created in furtherance of putting together a collection of tickets/stubs to these shows. Some are exceptionally rare.
2021-01-06 Noted on the book pages that all my books are now sold out except for the 2nd volume of the third book, subtitled His Final Years, 1983-1990. To find the other books you'll have to search online. Occasionally I may have some on this website – check the Virtual Garage and Collectibles Sale pages.
2020-12-11 I have been keeping up with marking things SOLD, but today I went through and deleted all the items in the Virtual Garage Sale that have been sold. Should make browsing faster. Contrary to the old SRV website, I am keeping the collectibles for sale much more up-to-date.
2020-12-09 Added a couple of more rare items to the Virtual Museum – Beatles. Also, I am now listing things on eBay again to clear out part of the Virtual Garage Sale, but it is potentially less expensive to contact me directly rather than using eBay. Sales have been pretty good, so don't delay.
2020-11-29 Added a number of items to the Virtual Garage Sale, Virtual Museum and the SRV counterparts of those pages. Please also note that I am now sold out of books, but they are still available from online retailers and bookstores. If you cannot find the latest edition, please let me know.
2020-11-18 Noted in the Stevie Ray Vaughan Collectibles For Sale page that I have only ONE set left of the 2-volume Day By Day, Night After Night books, and ONE extra copy of volume 1. Since 1996 I have sold approximately 20,500 books — Thank you!
2020-11-16 Added a very rare 1962 Beatles concert ticket to the Virtual Garage Sale-Beatles.
2020-11-14 Added new item to Virtual Museum – The Beatles (ticket to the Fab Four's first ever concert.
2020-10-28 Added 25 images to the Virtual Museum – Other Favorite Automobiles page.
2020-10-20 Added a couple of photos to the Celebrity Encounters page.