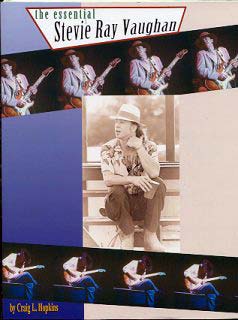 "Craig Hopkins' labor of love has produced this definitive volume of Stevie Ray Vaughan memorabilia, pictures, artifacts and interviews. In the real world, Hopkins was a trial lawyer in Texas, but his passion was Stevie.

 "That passion surfaced in 1984 at his first Vaughan show. Even though he caught Vaughan only a handful of times including once weeks before he died in 1990, Hopkins began collecting SRV memorabilia, then he started the SRV fan club in 1992. Within these 250+ pages are Hopkins' unrestrained efforts to shed light on every aspect of Stevie.

 "There have been many unauthorized biographies written about celebrities like Vaughan, but Hopkins book begins with an authorized 1996 letter from Stevie's mother, Martha Vaughan. From there he includes an amazing SRV chronology which includes details every Vaughan fan must familiarize himself with. For example, the first record Stevie bought was Lonnie Mack's "Wham," later broken by his father, Stevie met Tommy Shannon in 1969 at the Fog in Dallas, and Stevie wrote "Pride and Joy" in 1975 for Lindi Bethel. In addition to 20 plus pages of Vaughan talking taken from interviews published as far back as 1982, Hopkins himself talks to B.B. King, Tommy Shannon, Doyle Bramhall, W.C. Clark, Lonnie Mack, Chris Layton, and Kenny Wayne Shepherd specifically to record their tributes and reminiscences about Vaughan.

 "But the strength of Hopkins' effort is the seemingly endless array of memorabilia he is able to depict through pictures and his expert explanations of collectibles. The three pages of photos of backstage passes and explanations of how to verify the authenticity is crucial information for every serious collector. Likewise Hopkins' discourse on verifying Stevie's autographs (Hopkins is often called upon to verify the SRV signature from all periods of Stevie's life.). Hopkins offers his own guide to the world of SRV collectibles. Pins, clothing (four pages of pictures of SRV concert t-shirts), programs, and guitar picks ("Most picks are highly collectable and the value is now beyond the reach of many fans."). Add to this pages of color pictures of Stevie magazine covers, recordings here and abroad, bandannas, concert posters as far back as 1972, hats, cups, set lists, even state of the art SRV tattoos. This is a book to read over and over.

 "There's a four page alphabetical listing of songs Stevie played, when and with who. But the most impressive assembly is Hopkins' 45 page catalogue of over 1600 Vaughan performance from 1972 through the final Alpine Valley show. Stevie didn't suddenly appear; the road to fame is a long and arduous one.

"Hopkins' offers readers an intimate glimpse into the world of Stevie Ray Vaughan and the extensive artifacts that document his career."
  —- Art Tipaldi, Blues Revue Magazine
The Essential Stevie Ray Vaughan was my followup to The SRV Anthology. Published in 2000, 2967 copies were printed and sold out to fans in 25 countries around the world. It will not be reprinted. 256 pages with almost 500 photographs, 300 in color, in hardbound cover with dust cover. It was intended as a greatly expanded replacement for the Anthology. In 2000 I did not anticipate doing another book, but in 2006 I started compiling Stevie Ray Vaughan: Day by Day, Night After Night.