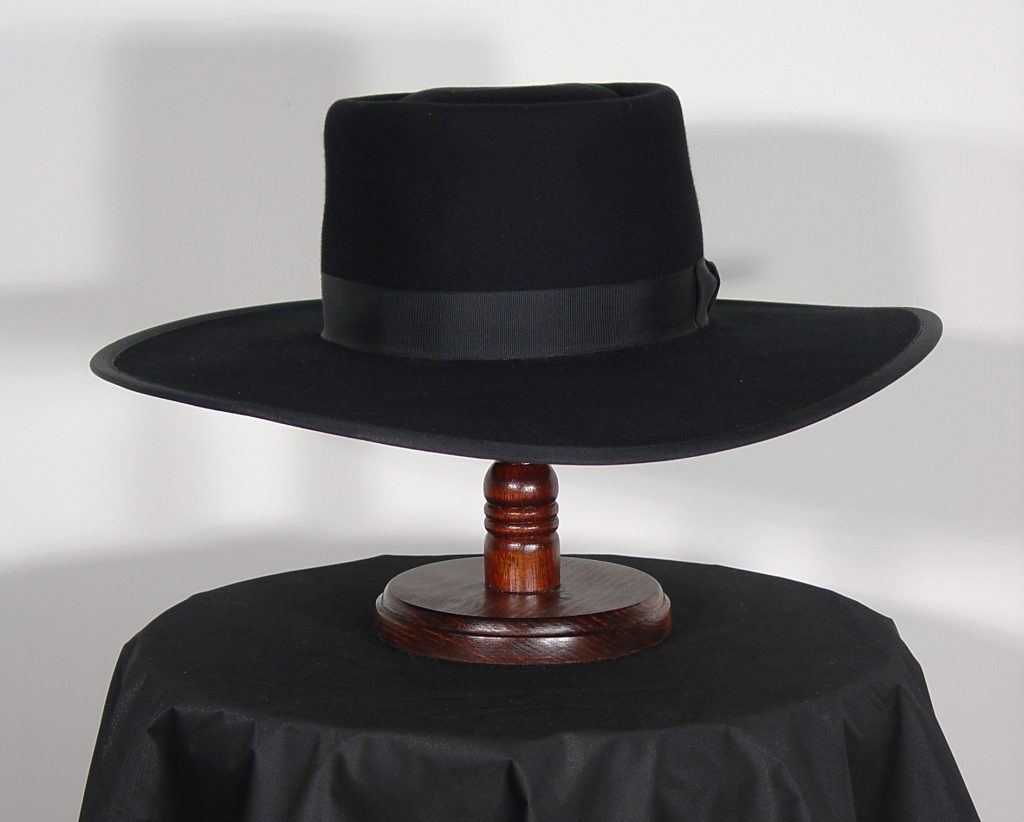 The late Manny Gammage of Texas Hatters made Stevie's hats. Back then the hat style was called the Plateau, but now they just call it the Stevie Ray Vaughan because so many people ask for it that way.
I spoke to Manny back in the 1990's and asked how many hats he made for Stevie. He jokingly said "Hundreds," and it may have seemed that way. He commented that Stevie was always giving them away, losing them, leaving them in or having them stolen from hotel rooms, or needed one for a special occasion. One of those special occasions was the inauguration party for one of the U.S. Presidents. Manny made it red, white and blue and said Stevie didn't like it. Manny prevailed on Stevie to wear it for at least one song, and then Stevie could fling it into the crowd if he wanted. Apparently that's exactly what Stevie did.
Stevie had hats in many solid colors – brown, purple, black of course, etc., and also several straw hats and Texas Hatters' trademark half straw, half felt hats for those in warmer climates. Supposedly the purple hat still exists in the hands of some celebrity.
Manny told me another story while I sat on the stool on which Stevie and countless other customers sat. He said Stevie called him from the road needing a new hat delivered for shows that weekend. It was already Friday, meaning Manny and his family had to get a hat made and creased the way Stevie liked them that very day in order to make the deadline for next day delivery. They worked fast, but were beset by a power outage from a passing storm. The hat was just ready when the UPS driver showed up. It was August 1990. The hat was for Stevie's last shows.
You can find Texas Hatters today in Lockhart, Texas, run by Manny's daughter Joella and her husband David. I highly recommend them. I have purchased several hats from them, and they are happy to make a hat for you just like Stevie's, custom fit for you.
In March 1985 Stevie and Double Trouble played a concert at Manor Downs outside Austin, sponsored by the University of Texas Alumni Association called the Texas Cowboys, the show benefiting handicapped children. It was the Texas Cowboys' tradition to present a black cowboy hat and a scarf to the artists who played. In Stevie's case, they went to the trouble to have Texas Hatters make a hat to Stevie's specifications. The inside leather band is stamped, "To Stevie Ray Vaughan from the Texas Cowboys." The images below are still frames captured from a poor quality audience video of Stevie receiving the hat, and wearing it for his encores instead of the straw hat he had worn during his main set. He even moved the feather from the straw hat to the black hat. This is the hat pictured at the top of the page.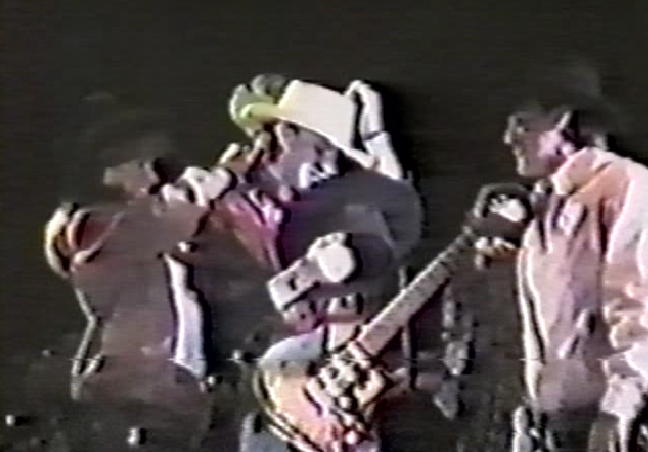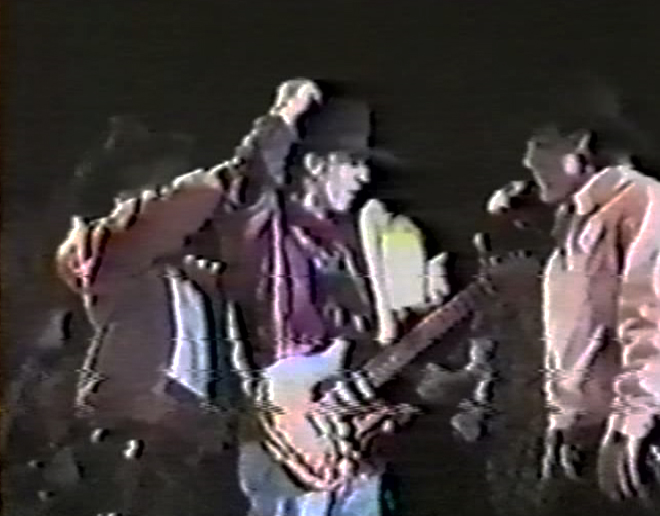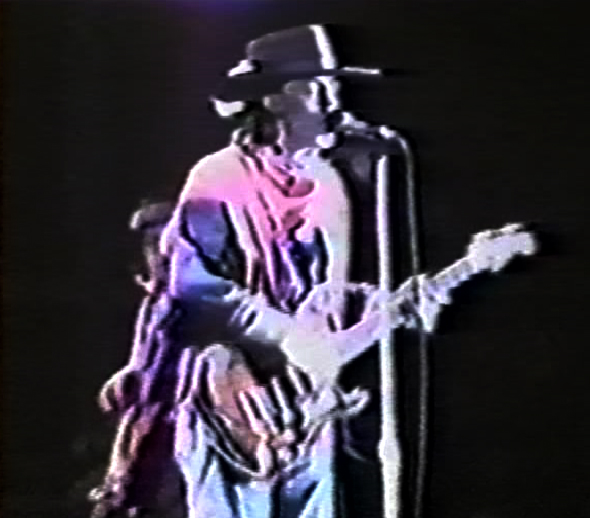 There are various stories told about how Stevie came to wear this style of hat. He had worn "newsboy" flat caps, knitted caps and western hats before he settled on the Plateau. Stevie's roadie Cutter Brandenburg said Lenny had a cheap hat of a similar style that Stevie started wearing. It is very possible he had seen photos of Jimi Hendrix wearing that style, and Stevie was very influenced by Hendrix. In the 1970's, Stevie occasionally did not wear a hat!
Stevie's mother Martha told me a great story. Stevie was very good about visiting his mother every chance he got, and one time they went to the shopping mall. Stevie was also very good about signing autographs for fans, but he remarked to his mother, "I don't mind the fans, but I wish they wouldn't stop me when I'm with you." Martha looked coolly at Stevie and said, "Well, if you weren't wearing that hat, maybe they wouldn't recognize you!" (There was no distinction between Stevie's on-stage and off-stage wardrobe.)