This page has music memorabilia for sale other than the Stevie Ray Vaughan items which have their own page. I can ship anywhere in the world. All prices are exclusive of shipping and 3% handling that I have to pay to the payment processor. You are always welcome to make an offer on multiple items.
SPECIAL COLLECTION. I acquired an extensive collection from the estate of a fan of the great multi-stringed-instrumentalist David Lindley. He started out in San Francisco in the 1960's, then Jackson Browne's band in the 70's, then his own bands El Rayo X and duos with Hani Naser and Wally Ingram. He has recorded with many of the greatest stars of the 70's and 80's – too many to list here. There are almost 300 items – Avalon Ballroom posters and postcards, Lindley and El Rayo X posters, shirts, CDs, records, promo items, and many autographs. I will post a special page for this cache, but let me know if you are a big Lindley fan and I will make you a whopper deal. I have set up a separate page for this collection. Access it through "Menu" dropdown.
There are four sections on this page, listed below. Click on them to jump directly to the section you want to see first, or just scroll down the whole page to make sure you do not miss anything cool:
SECTION 1 – THE BEATLES
An extremely rare ticket to the 8th concert ever performed by the "Fab Four." The Beatles as history knows them was not complete until Ringo Starr joined on August 18, 1962. This ticket is for a show just six days later! It is one of the earliest concert items you could possibly have from the Fab Four. I have only seen one other ticket earlier than this in the past ten years (and it sold for almost $9,000). The extra-special thing about this ticket is that this very ticket appeared on The Beatles' own official website (see photo). The Beatles had a collectibles page, and there was my (could be your) ticket! $5,000.
The Beatles Anthology, 8 VHS tape sets in original slipcase. Best documentary on The Beatles, produced by Apple Records with the cooperation of the three surviving Beatles and Ono. $20
(left) The Beatles HELP! Deluxe Book/DVD Boxed Set. Wonderful set is complete with two DVDs, hard covered book (lots of photos), reprint of the original Help! script, reprint complete set of Help! lobby cards, reprint of Help! British quad movie poster. All in slip case with interior wrapping and shrink wrap. Shrink is open, but looks like this was never played. $50
(right) The Beatles in Stereo box set. SOLD
The Beatles "Eight Days A Week" DVD Blu-Ray box set. Oscar-winning director Ron Howard explores the history of The Beatles through the lens of the group's concert performances, from their early days playing small clubs in Liverpool and Hamburg to their unprecedented world tours in packed stadiums around the globe, from New York to Melbourne to Tokyo. Available now, the acclaimed film is out now on Digital Download, Blu-Ray and DVD, plus 2 Disc Special Edition on both formats. Like new. $30
The Beatles "1+" box set. The 27-track CD/DVD and CD/Blu-ray pairs beautifully restored videos for each song, with new stereo and 5.1 Dolby Digital and DTS HD surround audio mixes. The brand new Beatles 1+ celebrates their career in over 200 minutes through 50 promotional films and videos. This includes the 27 No.1s, with the restored videos, along with a second disc of 23 videos, including alternate versions, as well as rarely seen and newly restored films and videos. New, STILL SEALED $50.
The Beatles "A Hard Day's Night" Criterion Collection release. 4K digital restoration, a newly remixed 5.1 surround soundtrack, and hours of incredible supplements. $15
The Beatles "A Hard Day's Night" Miramax Collectors Edition, 2-DVD set. $15
The Beatles "Yellow Submarine" animated movie DVD. $10 (two copies; buy first and get the still sealed copy).
Paul McCartney "Unplugged, the Official Bootleg" CD, numbered. $20.
George Harrison "All Things Must Pass" two CD set. $10.
This is a fairly complete collection of The Beatles CDs. $5/disc, or I will make a deal on all of them.
George Harrison and Eric Clapton "Live in Japan" 2-disc set. $10
George Harrison "All Things Must Pass." The most monumental of all the Beatles solo projects-and one of the most critically and commercially successful-George Harrison's All Things Must Pass here receives a complete make-over, with a complete new remastering and five new bonus tracks! Also here is a 20-page booklet annotated by George. $15.
The Beatles, poster approximately 36 x24. Cool artwork with one of their song lyric lines. Slightly wavy from being rolled. $10.
John Lennon T-shirt with lyrics from "Imagine." Size 4XL, has been worn and washed a bit. Hang it on the wall. $5
Paul McCartney tour VIP ticket holder promotional backpack, cloth bag and insulated, zipper bag and beach towel all in new condition, never taken out of the box except for photos. These were not sold at the shows to my knowledge but were shipped directly to me as a VIP ticket holder. Includes these items, all in new condition:
Huge 60 x 35 beach towel never used or washed, still in original plastic sleeve. Beach towels are SOLD.
Backpack with embroidery. Very nice, useful item. Hang tag intact. $35
Lightweight cloth bag with handles. free with purchase of backpack.
Insulated, zipper-top bag for keeping things hot or cold. SOLD
Paul McCartney clock. This was another VIP ticket holder premium for the One to One Tour. Battery operated. I have another one that has been working perfectly for years. This one is near mint. $25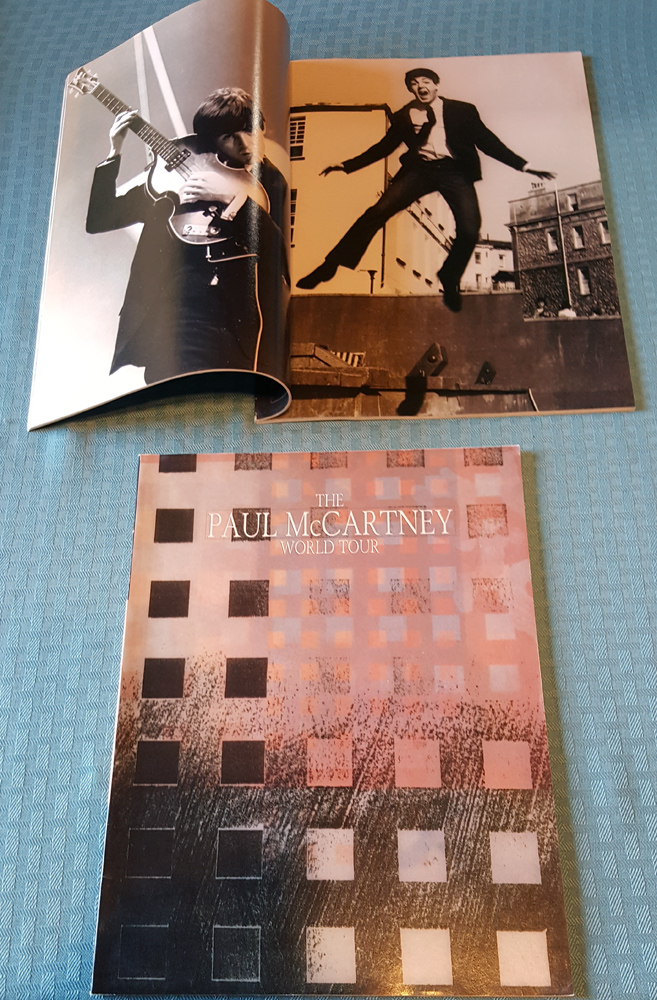 Paul McCartney tour program 1989-90, near mint condition. I got this at the show and have preserved it carefully for 30 years. $10
The Beatles Posters, all in excellent condition.
Promo Live at the BBC, 1994, 29.5 x 20″ $15
Yellow Submarine 24×36 $20 (similar to one shown).
promo for catalog (HELP! featured), 1992, 30 x20″ $15
This is the 1970 Life Magazine in which many people learned about the breakup of The Beatles. It is the entire magazine, no pages are loose. It is currently shrink-wrapped onto acid-free foamboard, open to the article, but will be shipped without the foamboard unless you want to pay a little extra. You could leave it as is and put it in a frame. The magazine has been stored this way for many years and I really do not recall what the cover looks like. It may have an original mailing label from 1970. $10
The Beatles calendars various 1987-2015. Great images could be used in picture frames. $5 each or all ten for $45.
Paul McCartney concert tickets, two full tickets, one stub. All three $25.
McCartney poster, promo for Tripping the Live Fantastic, 1990, 30 x 20, $25
RINGO STARR 1992 Tour poster, 24 x 12.5 (staple holes in corners), $10.
John Lennon artwork (the only thing he did well in school). Included are an exibition catalog, several price lists, ticket to the exhibition, two different calendars (2004,2005) featuring his art. All for $20.
SECTION 2 – ROCK AND ROLL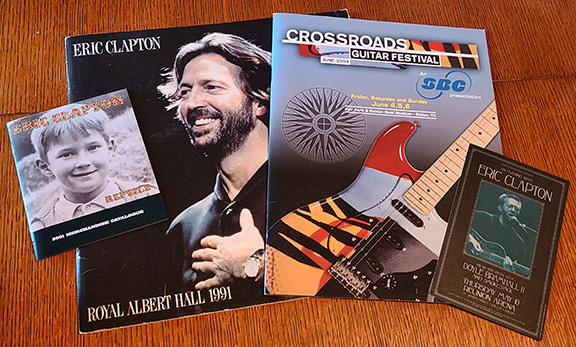 Eric Clapton collection: 2004 Crossroads Guitar Festival program (mint); 1991 Royal Albert Hall program (vg); Reptile merch catalog (mint); and small concert postcard for a show with Doyle Bramhall II opening in Dallas in the 90's. All for $50.
Eric Clapton photograph taken in Chicago by my friend Paul Thomas. 20×30 inches, this is an actual photographic enlargement, and the image shown does not do it justice. It is mounted and cannot be rolled for shipping. Pick up for free, or it will have to be shipped flat. $100 unframed.
JIMI HENDRIX poster, Woodstock promo 1994, 28 x 18, $20
Buddy Holly, his first album and first single. The album cover has some seam splits, but it is pretty rare and displays very nicely. The 45 is a promotional pink lable copy of Buddy's first record "Blue Days, Black Nights" which was in near mint condition until a bad framer got tape stuck to the lable. One of the reasons I learned how to do custom picture framing. Framed as shown $450. Records unframed $200.
SECTION 3 – THE BLUES
The great Bonnie Raitt, signed program, ticket and backstage pass for a show in Austin, 2009. My brother and I got to meet Bonnie that night when I delivered a copy of my book to her as thanks for granting an interview. This is a great collection of items from that night. $200.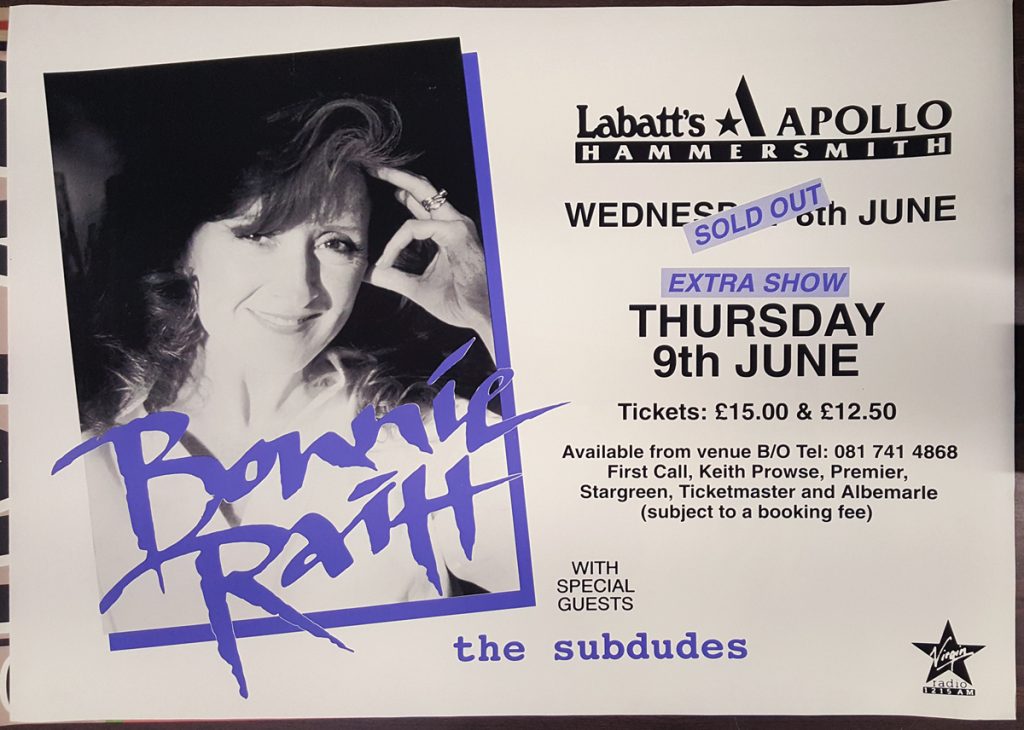 BONNIE RAITT posters. 1991 promo is 2-sided (both sides shown above) 30 x 20, $15. UK Hammersmith huge concert poster 1994, approx 40 x 30, $25.
Jonny Lang, "Austin City Limits" TV recording program. I have several of these from when I attended the taping. $1 each
SECTION 4 – OTHER GENRES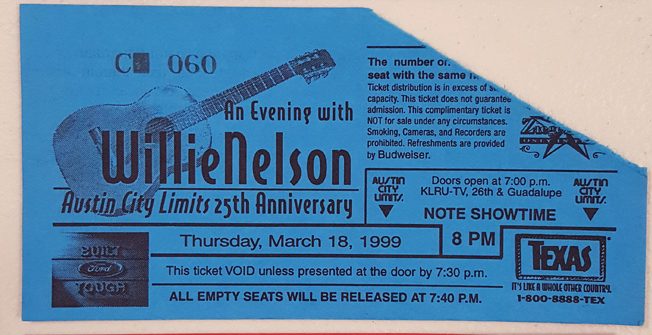 Willie Nelson "Austin City Limits" TV tickets. Rare.
Austin City Limits operated the same way regardless who was recording: a one-sheet program folded into 4 pages, blue tickets for guaranteed admission (difficult to come by since the original studio only held about 3-400 folks), pink tickets for those willing to stand in line and hope to get a seat if the "blue" people didn't fill the studio. That's it for things given to the public – program and ticket.
Ticket for the Austin City Limits television recording on March 18, 1999. $15
the stage-used set list for John Hiatt's studio performance on December 14, 1993. It is 8.5 x 11 and has a handwritten edit, possibly by Mr Hiatt.
large ticket stub
program.
and the signed poster.
All for $45.
Shawn Phillips signed records and CD inserts. Your choice $15 or all 3 for $40. Still available:
Second Contribution
Transcendence
Beyond Here Be Dragons (CD insert only)
September 16, 1994 Austin City Limits TV taping, Little Feat stage-used set list. $30.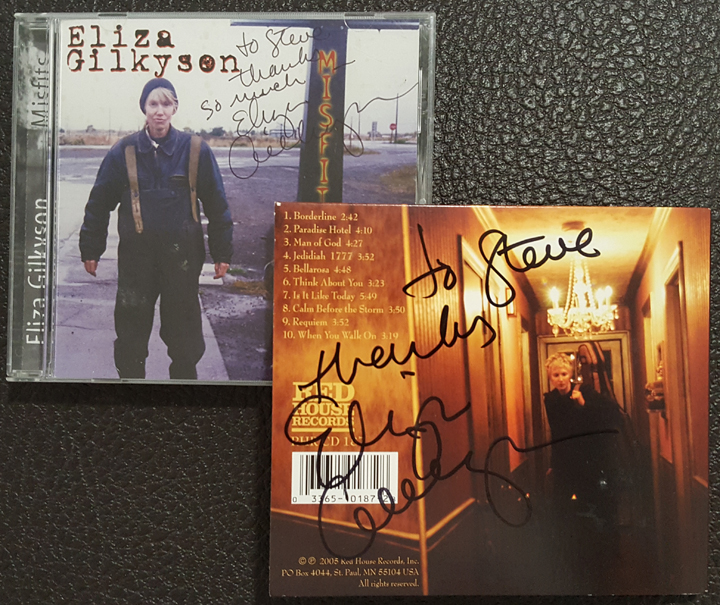 ELIZA GILKYSON signed CDs: Paradise Hotel (2005) and Misfits (1999). $15 each or both for $25.
Eliza Gilyson autographed muisc songbook. $25
Carl Reiner & Mel Brooks, the classic LP 2000 Years With …. $10
THE SONS OF THE PIONEERS Favorite Cowboy Songs vinyl LP in excellent condition. $10
Compact discs. $4 each except Monty Python CD-ROM game $15, Kerrville multi-disc $10 for both volumes.
Concert ticket stubs: I'll get a text list posted eventually, or just tell me which ones you want. $3 each except the Loudon Wainwright signed tickets $10 each and the David Lindley ticket $10.
Lapel pins from Poland. I have no idea how old they are. Country Music, Reggae, Jazz, PSJ, Heavy Metal and Blues & Folk. $5.
STUFF I HAVEN'T GOTTEN BETTER PHOTOS OF YET. If you see something you are interested in, let me know. Some rare stuff and some odd stuff. Some are described briefly below with prices, but there are lots of things in this cabinet I haven't gotten to yet.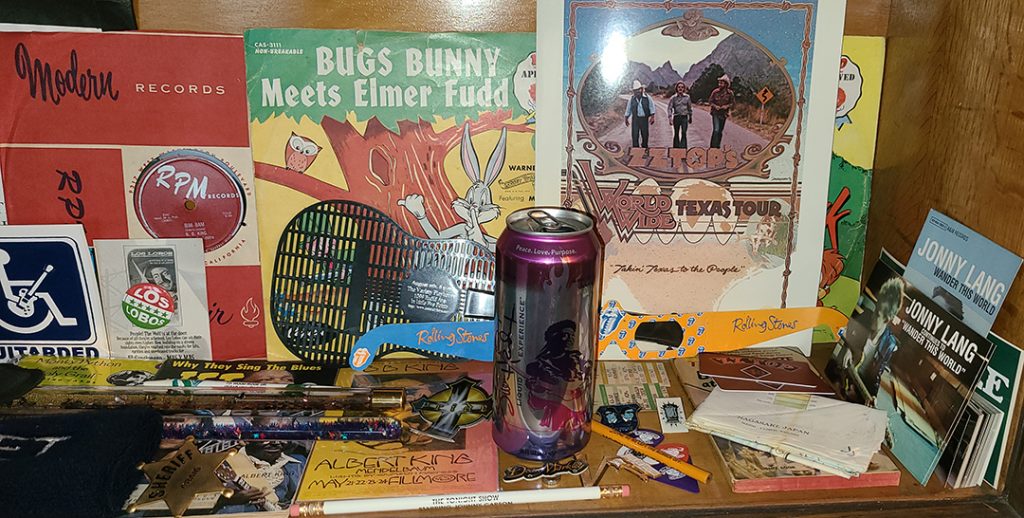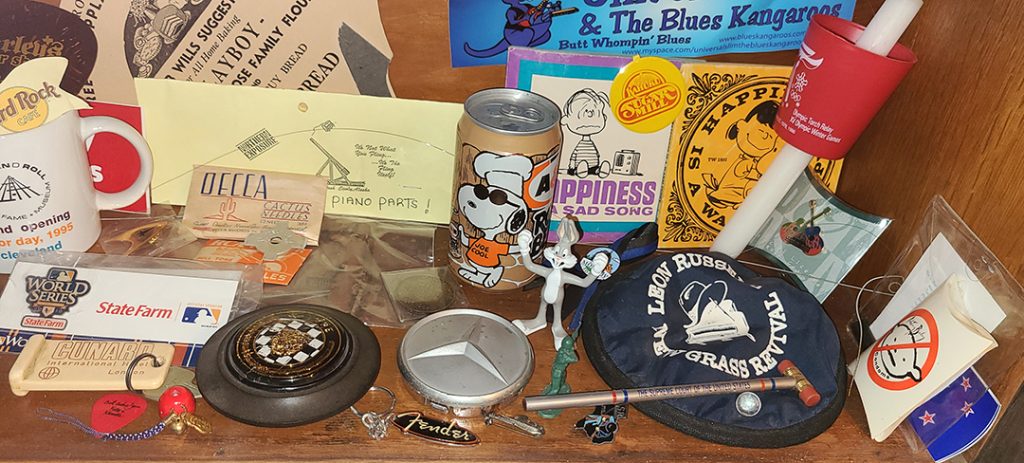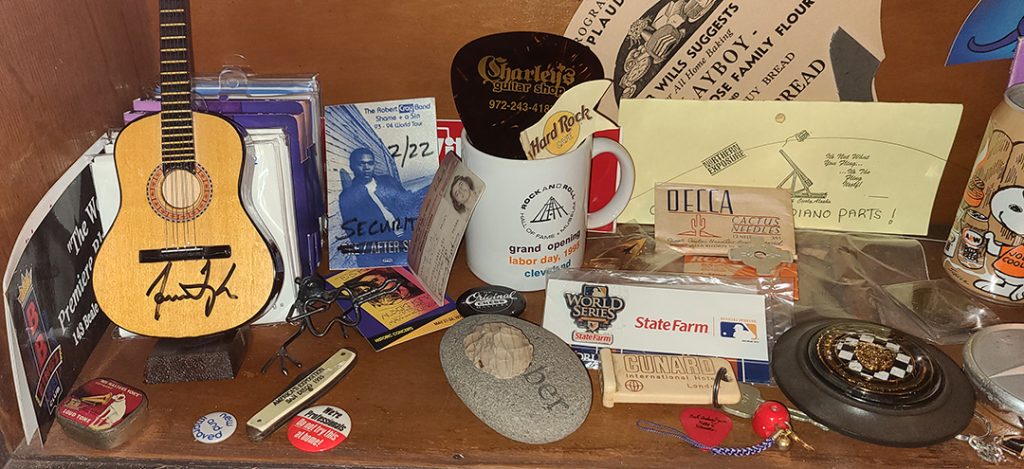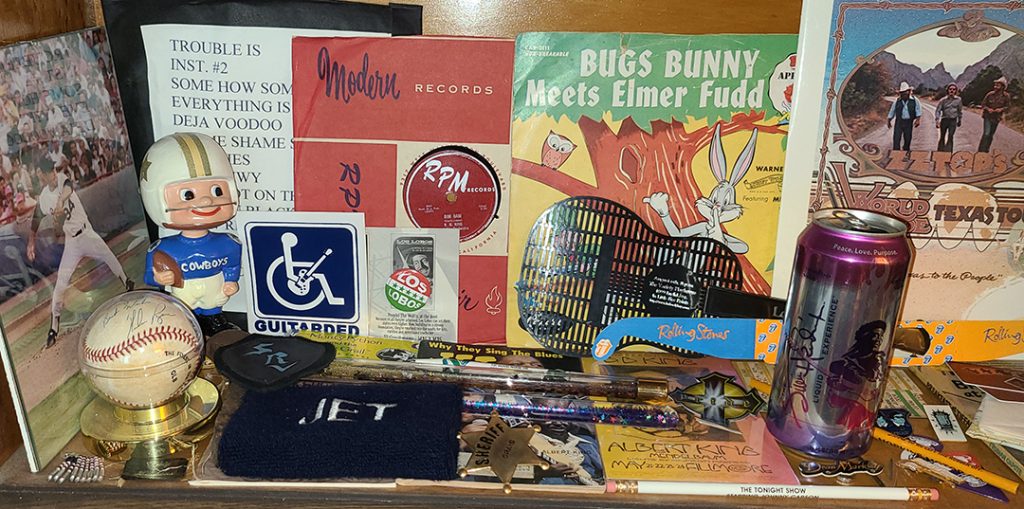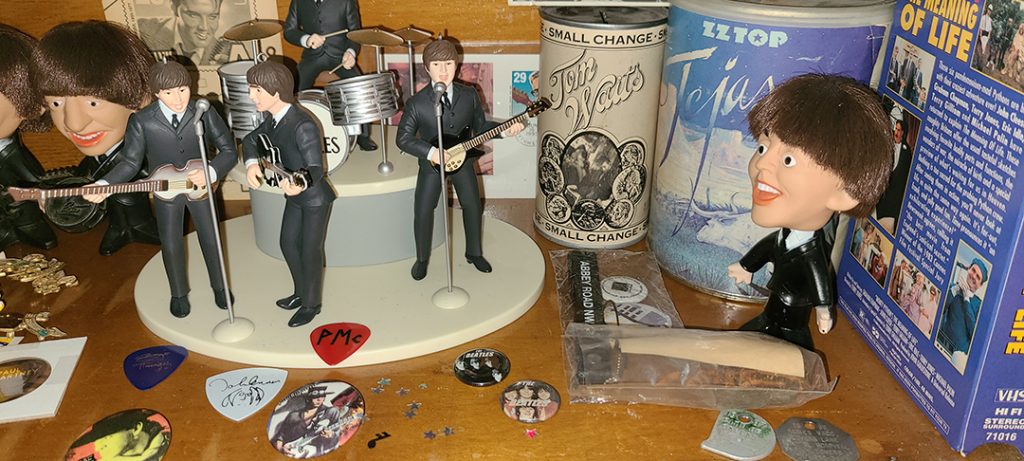 Among these things are a Paul McCartney Remco doll $100 (not selling the set of four), ZZ Top promotional jigsaw puzzle in the original can and Worldwide Texas Tour press package from 1976 see above listing under Blues, Monty Python "Meaning of Life" VHS autographed by Python Terry Jones $100, "Northern Exposure" genuine piano parts from the episode where they fling a piano with a trebuchet $25, Hallmark Beatles ornaments with stage $100, Dallas Cowboys nodder from the sixties $?, Dallas Mavericks Jason "Jet" Terry wristband $5, Jimi Hendrix drink can (empty) $4, Mel Blanc 78rpm records $?, two plastic airline lapel pins $1, Star Trek lapel pin $4, couple of Stevie Ray Vaughan pins SOLD, Jet magazine with B.B. King cover $5, Kenny Wayne Shepherd stage-used set list $?, Blues Brothers lapel pin (maybe two) $?, Los Lobos promotional pin $4, Rolling Stones 3D glasses $10, U2 promotional condom in original box 1992 $?, several antique packages of 78rpm/Victrola needles $40, B.B. King retail unused guitar strings (3 sets I think) $5, giant Charley's Guitar Shop guitar pick SOLD, A&W Peanuts Snoopy Joe Cool can (unopened) $5, Bob Wills antique cardboard fan advertising Playboy Flour $75, Leon Russell & the Newgrass Revival backpacker cloth frisbee $20, Peanuts Snoopy PEZ dispenser $5, 101 Dalmatians ceramic dog $10, three Beatles round Yellow Submarine pins/mirrors SOLD, collection of Hard Rock Cafe pins and matchbooks $5. Tom Waits promotional Small Change collection can/bank is not likely for sale but you can make me an offer. "$?" means I haven't put a price on it yet. Let me know if interested. The Doyle Bramhall drumstick and SRV antenna ball not for sale.
I have MANY more autographs that I will be putting up for grabs, so come back.
SECTION 5: INSTRUMENTS AND GEAR
(Sorry, the Number One replica in the background of the photos is not for sale. The Fender Vibroverb amp is for sale on the SRV page of this site.)
Gretsch "Billy-Bo" Jupiter Thunderbird guitar and bass. Near mint with original hardshell cases and case candy. Rock luminaries Billy F Gibbons and Bo Diddley joined forces to bring you a 21st-century version of the elusive Gretsch Jupiter Thunderbird now dubbed the Billy-Bo which was designed in '59 by the talented Bo Diddley himself! Guitar and matching bass sold as a pair $4,500.
Fender Custom Shop 1995 matching Stratocaster and Telecaster number 49 of only 50 sets, each with original hardshell cases and case candy. The pair $8,000.