UPDATE: 2022-09-11 BIG BOOK NEWS! I'm getting closer! I have almost finished the REVISED and FINAL edition of Stevie Ray Vaughan: Day by Day, Night After Night, updated to include never-before-seen photos from the Rock and Roll Hall of Fame induction weekend in 2015, and other updates to cover SRV news from 2010 through 2020. There are also a few different photos and some corrections and additions to tour dates, etc. This final and revised edition will be 592 pages and limited to 500 or fewer copies and will be signed and numbered. Use the contact info to sign up for more information and be notified when you can order. I need to hear from you now to see if there is still enough interest for me to go to this expense.
Shown below are the three (soon to be four) editions of my third book. I self-published the first edition in 2008 as a single volume of 424 pages. I sold the publishing in 2010 with the goal of having a publishing house improve the layout and make it available to fans at a lower cost (mission accomplished). I also updated the book with additional research and rare photographs. This expanded the book to a colossal 527 pages across two volumes. The Deluxe Set packaged both volumes in a slipcase, and was limited to approximately 1600 sets.
The two volumes were subtitled His Early Years 1954-1982 and His Final Years 1983-1990. However, the 2nd volume also covers significant information through 2010. All the editions are sold out except for the 2nd volume, His Final Years, 1983-1990. I have a few copies of that volume available, signed and personalized to you, if desired. This is the only way to get signed copies. Contact me for details.
In fall 2022 the Revised Edition will be published in a single hardcover volume of 592 pages. It will include exclusive photos from rehearsals for the Rock and Roll Hall of Fame Induction Ceremony, with Double Trouble, John Mayer, Gary Clark, Jr. and Doyle Bramhall II. Other new material has been added, plus some minor corrections sprinkled throughout. This is certainly the last edition, and it is likely the most complete biography of Stevie Ray Vaughan that will ever be published.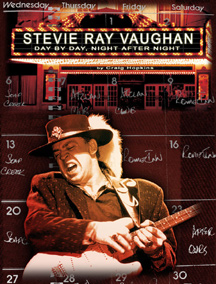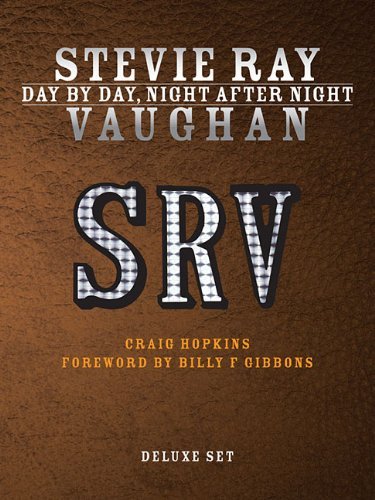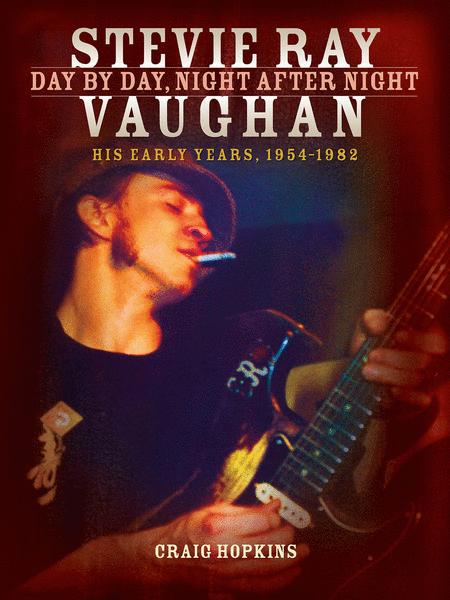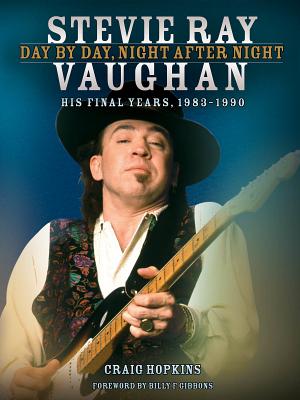 Here is my description from 2008, before the book was expanded for the 2-volume edition, or the Revised Edition in 2022:
Eighteen years ago I began a journey which has culminated in three important results: wonderful friendships, a museum-quality collection and this book. At the beginning of my journey I had no idea this is where it would bring us. I say "us" because the journey would not have been so overwhelmingly enjoyable and successful without the assistance, encouragement and contributions of Stevie's family (Martha Vaughan and Joe Cook), friends, band mates, business associates and hundreds of fans. The journey has found expression in newsletters, this website, fan conventions, memorabilia exhibitions, three books and thousands of letters and emails. You are part of my journey, and I am very happy to bring you this opportunity to own the most fact-intensive and lavishly illustrated history of Stevie Ray Vaughan's life.
These 432 pages (253,000 words and almost 1000 illustrations) trace the life and legendary musical career of one of the greatest electric guitarists of all time. I approached the creation of this book with the attitude that if I could possess only one book about Stevie, this is it. With that attitude you can be sure that I believe this book is worth the money I have invested making it available to you, and every year I have spent doing research. On the production of this book alone I have spent up to twelve hours a day for the past fifteen months, traveling literally from coast to coast. The book explores where this musical genius came from, how he became successful, what he experienced along the way, the recollections of those who were closest to Stevie, his dramatic recovery from near-fatal addictions, stories from the band's life on the road and in the studio — illustrated in a way that has never been done before and likely never will be again. I have selected almost one thousand of the most historic and artistic photos from among thousands of images — from family photo albums and candid shots on the road to those taken by the most respected professional photographers.
The following are among the many aspects of the book that I consider highlights:
The story of Stevie's life and career is told in the form of interviews of over 110 family members, band mates, peers, friends, girlfriends, roadies, managers and agents. Some of their comments will make you laugh, some may make you cry. If you don't think, "Wow! I didn't know that…" many times while reading this book, I will be quite surprised. The recollections of those closest to Stevie tell a compelling story without the need for paraphrasing or speculation. To the greatest extent possible you get the story directly from those who were there. It is not a story sprinkled with a few quotes; it is comprised of quotes tied together to form a story, annotated with thousands of additional facts and illustrations.
An analysis of the nineteen different bands of which Stevie was a member (plus four other incarnations of those bands which could legitimately bring the total to twenty-three bands). Several of these bands have never been mentioned in any previous book or magazine. Even I didn't know about some of these bands until I really dug into researching Stevie's early years. The story of these bands is told by the surviving members, many of whom had never been interviewed about their experiences with Stevie.
The nearly 1000 illustrations include previously unpublished family photos of Stevie beginning in 1954 and continuing throughout his life. There are photos of Stevie on stage from his first public performance ever (1965!) through his final song, "Sweet Home Chicago" at Alpine Valley; the only photos known to exist of Stevie in his earliest bands; and comic photos of the characters Stevie would invent and other candid moments off stage. In addition to the hundreds of photos of Stevie, there are also illustrations of concert handbills, posters, letters, handwritten lyrics and notes and other historic artifacts.
The list of concerts is significantly expanded and is now annotated with references to known audio and video recordings and sample set lists throughout his career — including never before published set lists from his teenage bands.
For the first time, I have presented everything in chronological order (except for the pages at the end about Stevie's guitars and equipment).