This page is for "everything else" I thought you might be interested in reading that is not contained elsewhere on this website or in my books. This is where I will post new information that comes to light, and corrections that could not be made in time for the Revised Edition coming in Fall 2022.
I.
This story was submitted by Albert Tablanza:
"In 1990 I worked at the Fender plant in Lake Oswego, Oregon. We built the Fender and Sunn amps there. I worked on the tube amp assembly line. On my days off I worked as a concert stagehand, mainly working at the LB Day amphitheater in Salem, OR. In June of 1990, I quit working for Fender to work as a set electrician in the film industry, but at the same time I continued to work as a stagehand.
"On July 20, 1990, SRV and Joe Cocker came to the LB Day Amphitheater. I was working on assembling some stage risers when all of a sudden Stevie's guitar tech opened up two Anvil road cases and there were two new 1959 reissue Bassmans. I immediately gravitated to the amps and looked inside to see two blue round stickers with my hand writing with the initials "AT". At that time, I also noticed that the bottom P10 R speakers were replaced with 10" EV speakers, but the two upper blue P10 R speakers could not be replaced due to the fact that the transformers and chassis did not leave room for the EV speakers, which had larger magnets. I immediately told Rene Martinez that the EV and the P10 R speakers would be wired out of phase if he wired them in parallel according to the polarity markings on the P10 R speakers. He told me that Stevie had caught that when he first played the amps with that speaker configuration.
"SRV was the first to perform that very sunny day, so there were no spot lights needed, so I was told not to go up to my spot light tower and to just enjoy the show. After SRV played, Joe Cocker went on stage, I was told to come down from my spot tower, because they decided to use only two spot lights due to it still being daylight. At that time I decided to hang around backstage instead of watching the show for the front of house. Rene Martinez noticed me back there and introduced me to SRV as the man that built his amps. We shook hands and talked about the amps and how much he liked them.
"When the show was done we were assigned to different departments for teardown. I was assigned to work with lighting, but instead Rene Martinez saw me and told me that I was to help him instead. We put the amps back in their cases, then we went over to the guitars. Rene removed the straps, then handed me the guitars to put in the cases. At the time when I was handling those guitars, it was like holding an Excalibur sword just thinking about all the music that was made with those axes."
II.
Just as I finished the new material, edits and corrections for the revised edition of Stevie Ray Vaughan: Day by Day, Night After Night, coming Fall 2022, I received an email with additional information that I wish I could include. It is from RICHARD PARKER regarding Stevie recording two commercials for Pepsi in January 1990. It was a bit of a milestone – the last time Stevie and Double Trouble were in a recording studio. Of course, they performed in TV studios and on stage many times after this date, but to my knowledge it was the last time they were in the studio to record something new. In this case, it was the rare radio jingle. Stevie came full circle, as his very first studio experience was in a place that recorded radio jingles. In the book you will find an interview I did with Christopher Harris about the Pepsi session. Here is Richard's response:
"In the section about Stevie's Pepsi commercial, Christopher Harris states that he wrote and produced the two radio ads, but he did not write one note, not one word. He was hired as a 'producer' strictly to supervise things like the paperwork and contracts.
"I was the Creative Director in charge of the Pepsi account for Tracy-Locke Advertising in Dallas. Our agency contracted with Stevie and the band and conceived and created the ads. Chris Harris' role was that of facilitator.
"Stevie wrote the music and I wrote the lyrics. Stevie chose the studio and the recording engineer and we (the agency) booked both. In reality, Stevie was the producer of the commercials, since he was in charge of all aspects of the recording, music, vocals and the final mix.
"The agency and our Pepsi client had a rule that a producer must be on site at any radio or TV production to make sure all went well – to facilitate the production. I hired Chris to serve in that capacity and he had no supervision over the commercials themselves in any way.
"When I told Stevie that a producer would be in the studio, he balked. It was only when I assured him that Chris would have absolutely no input on the music, the vocals, the mix or the lyrics that Stevie agreed to go ahead.
"Not long after the spots began airing, Stevie died in the tragic wreck. I made the decision to pull the ads from the radio on that day out of respect, and to my knowledge they have not been heard publicly since that day.
"I am not sure why Chris did not give credit to me or to Dwight Fletcher, the account executive on this project, but it should be clear that Chris' role in the production was nowhere near as he described in the book, although he was present at the recording session.
"Otherwise, the book is a gem, well-researched and written, and congratulations for it."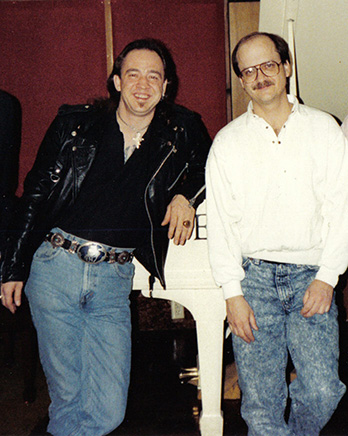 So there is another example of different sides of the same coin. It was my decision throughout the book to present both sides where stories and recollections differed. Fans on some of the tours that I produced, and some of the private tours I still give from time to time, have gotten to hear those Pepsi commercials. My friend the late Doyle Bramhall gave me a copy many years ago, and I have kept my promise not to copy it for anyone. Maybe I'll get to play it for you some day.
III.
One of Stevie Ray Vaughan's regular venues in the 70's, Rome Inn, was destroyed by fire in January 2022. Since the early 80's it had been Texas French Bread. Another structure associated with SRV is gone, leaving not much at all in Austin for SRV sightseeing. The Continental Club, statue and original Austin City Limits studio are about the only places left. There may be some houses still standing where Stevie lived, but I know several have been torn down. I still offer personal tours in Dallas, but not in Austin.
more to come …