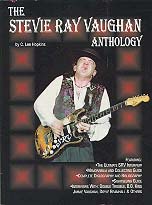 "Easily the most comprehensive work on the subject to date." Texas Monthly (1996)
"Worth every penny." Guitar School Magazine
"Fun reading and a good all-in-one reference source." Guitar Shop Magazine
"The Gospel According to Stevie Ray." The Dallas Morning News
"Much information unavailable elsewhere. Definitely recommended." Vintage Guitar Magazine
Published in 1996, 196 pages, softcover, color cover, b/w photos. 3102 copies were printed and sold out. It will not be reprinted.
The ultimate Stevie Ray Vaughan interview (30 pages).
Memorabilia price guide and collecting tips.
Interviews with Double Trouble, B.B. King, Doyle Bramhall, Stevie's brother, Kenny Wayne Shepherd, and others.
Sightseeing guide.
Back issues of the Fan Club newsletters.
Discography listing approximately 600 SRV authorized, unuathorized and import recordings.
Bibliography listing approximately 300 magazine articles and books about Stevie Ray Vaughan.
A listing of Stevie's major awards and achievements.
An open letter from Martha Vaughan (Stevie's mother).
The poetry of Joe Cook (Stevie's uncle).
Two previously unpublished family photos of Stevie.
The Stevie Ray Vaughan Anthology was my response to fans asking for back issues of the snail-mail newsletters that I sent out starting in 1993. I added quite a bit of additional information and published it at $19.95. The newsletters and my research continued and four years later I wrote The Essential Stevie Ray Vaughan.