I have been collecting, buying and selling SRV memorabilia since 1990. I am not nearly as active in the marketplace as I was from 1993 to 2010 when I had a large quantity of inventory. I still come across a few special things, and I continue to downsize my own collection. Please also see my film, sports and other music collectibles on other pages of this site.
SPECIAL ITEMS
The following items are the best I currently have to offer. Some are items previously owned by Stevie Ray Vaughan.
A scarf owned and worn by Stevie Ray Vaughan. This scarf was purchased by Stevie in London in 1986 at a vintage clothing store. It is being sold with two original Polaroids of Stevie wearing this scarf, one of Stevie alone, and one with his mother Martha. Also comes with a statement of authenticity from Janna, Stevie's girlfriend and later finacee. Note the guitar player on the scarf! SOLD.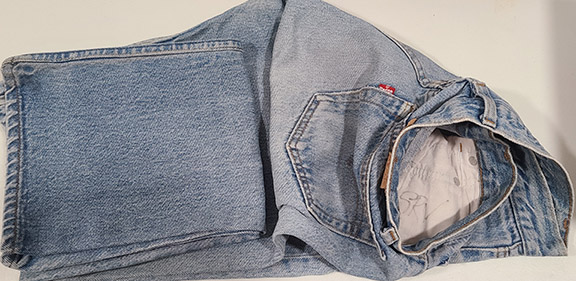 Jeans owned, worn and initialed by Stevie Ray Vaughan. It was Stevie's practice to write his initials on the inside of the pocket of his jeans to make sorting laundry easier on the road. Stevie wrote "SRV" on the pocket of these jeans. They are in excellent condition and are likely stage-worn, but they're jeans. Maybe you can find a distinguishing mark to match with a photo. If I take the time to find a photo match, they're going to be a lot more valuable, so strike while you can at this price. $4,000
MISCELLANEOUS SRV ITEMS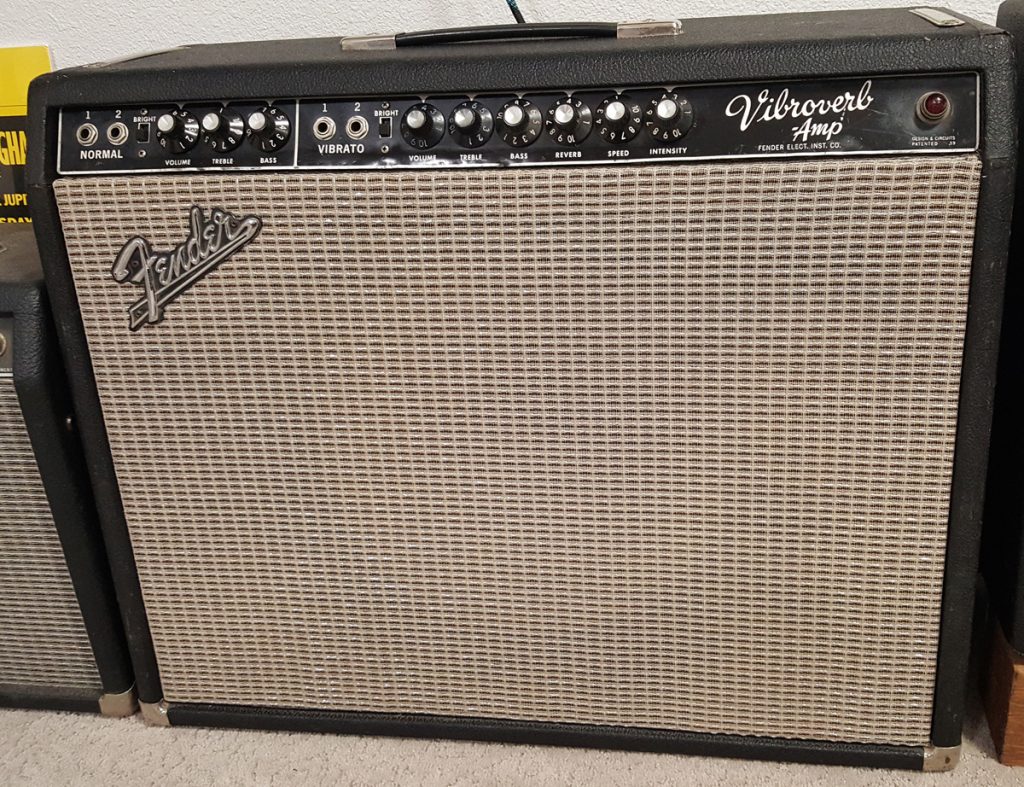 1964 Fender Vibroverb amplifier and extra 1965 15″ speaker
Stevie Ray was well known for using two Fender Vibroverbs on stage throughout most of his career. His two Vibroverbs were only 36 serial numbers apart,* and this Vibroverb has a serial number between Stevie Ray's two Vibroverbs. I know this because I have copies of Stevie's equipment lists that show the serial numbers of his guitars and amplifiers. So, this is one of only 34 Vibroverbs made between Stevie's stage Vibroverbs. Does that add any value? Probably not, but it is an interesting fact to distinguish this amp from other Vibroverbs. I have always thought it was kind of cool to have an amp that close to what Stevie had.
You can see the serial number of the amp and speakers in the photos. It is a 1964 Fender Vibroverb, currently with a January 1967 Jensen 15″ speaker #220702. INCLUDED in this auction is an extra 15″ February 1965 Jensen speaker #220505. To be clear – included in the price are the Vibroverb and both speakers.
I bought this amp and extra speaker from Craig's Music in Weatherford, Texas, in 2004. It has been played no more than 6 hours in the past 15 years because I don't gig or need the awesome power of this amp. I'm selling it because someone needs to play the heck out of this fabulous vintage amp.
In the photo of the transformers, your eyes may be better than mine but they look like (left to right):
123A7A, 606409
125C1A, 606-4-15
125P50, 606414 (power)
The amp works as of September 7, 2020, and I will update this if the condition changes. The reverb works. I believe the Vibrato works, but I don't have easy access to a foot pedal to turn it on this morning. It worked last time I tried it. The amp is sold as is. If you can send someone to try it out in the Dallas area, they are welcome to do so.
Pick up in the DFW Texas area. If you need it shipped, I suggest you (1) buy a road case for it, (2) get the dimensions and weights of the amp (57 pounds?) and road case from the internet, (3) call a carrier and get a shipping quote (I can deliver to FedEx or UPS). To be shipped outside the US, buyer is responsible for all shipping, insurance, customs duties and taxes. $4,995
*If you are a hardcore Stevie Ray Vaughan gearhead, you'll know that he once said in an interview that his Vibroverbs were consecutively numbered — 6 and 7. However, Stevie was mistaken. Those were single-digit production numbers stamped on a sticker inside the cabinet, not serial numbers. His Vibroverbs were 36 apart, which is still very closely matched.
2015 Rock and Roll Hall of Fame Induction Ceremony program. Stevie Ray Vaughan, Ringo Starr, Lou Reed, Green Day, Bill Withers, Paul Butterfield and Joan Jett inductees. The back of the program is the only place you'll see Peter Max's artwork featuring Stevie. (I sold out of the posters.) Program $150.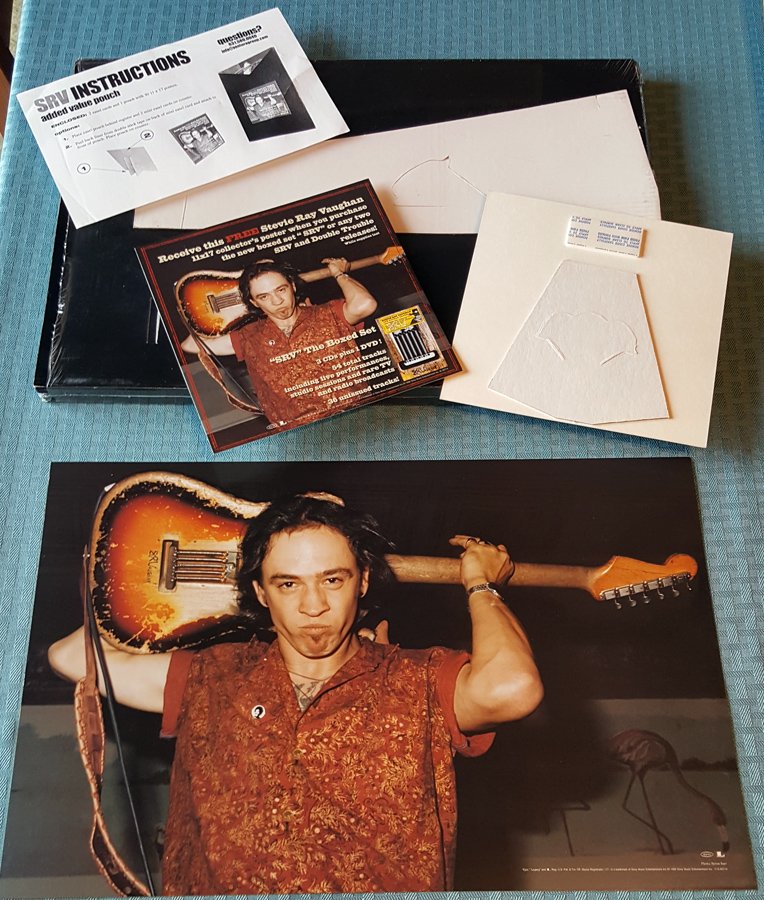 There are FOUR items included in this listing. From the 2000 SRV box set, a 17 x 11 inch poster on heavy card stock with an iconic image of legendary guitarist Stevie Ray Vaughan playing the guitar behind his head. Note the Jimi Hendrix pin on his shirt! Also included is the counter-top promotional display sent to record stores, approximately 7 x 7 inches, easel-backed (one only; both sides shown in the photo). Also included is the easel-backed black box (back shown; still in open original shrink wrap) that held 30 posters for the record stores to give away with purchases. Also included in this listing is the paper instruction sheet for the promotional items sent to record stores. These items have been in my collection since 2000, obtained directly from the record company (I assisted with the liner notes). $40 for all 4 items; $35 for 3 items (no instruction sheet).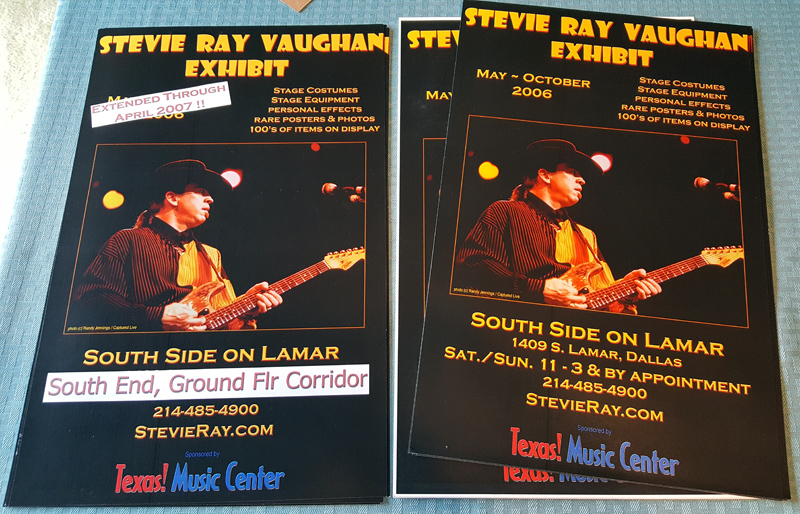 I did an exhibition of Stevie Ray Vaughan memorabilia (3500 square feet space in downtown Dallas) for a year in 2006-07. These are what is left of the promotional posters I had made. They are in excellent condition, approximately 17 x 11 inches. They feature one of my favorite images of the legendary guitarist. Some of the posters have small banners affixed to them to advertise the extension of the exhibit for an additional six months. $5 each.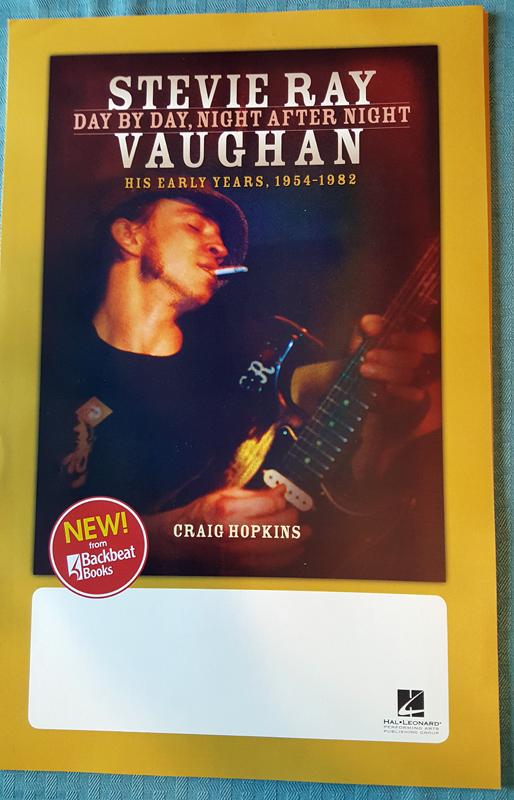 Promotional poster for the award-winning biography of legendary guitarist Stevie Ray Vaughan. Near mint condition, approximately 17 x 11 inches. I will sign and personalize them in the white area if you like (specify). $3 each.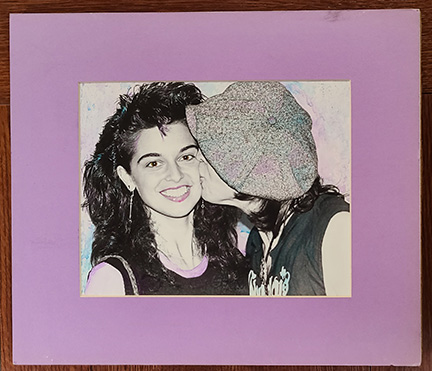 Hand tinted photo of Stevie Ray Vaughan and fiancee Janna Lapidus. Photo size is approximately 9.5 x 7.5 inches, matted but not framed. I really like this photo, but I have similar one in my collection. $45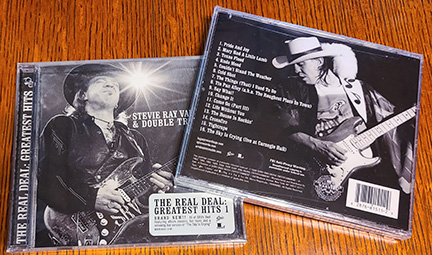 Stevie Ray Vaughan, The Real Deal: Greatest Hits 1, CD still sealed. I used to give these away at events to kids. I probably have 50-75 of these. Contact me if you are a music teacher (are there any of those left?) and will pledge to give these to kids in your classes. Free to teachers for use with your students – just pay inexpensive media mail postage.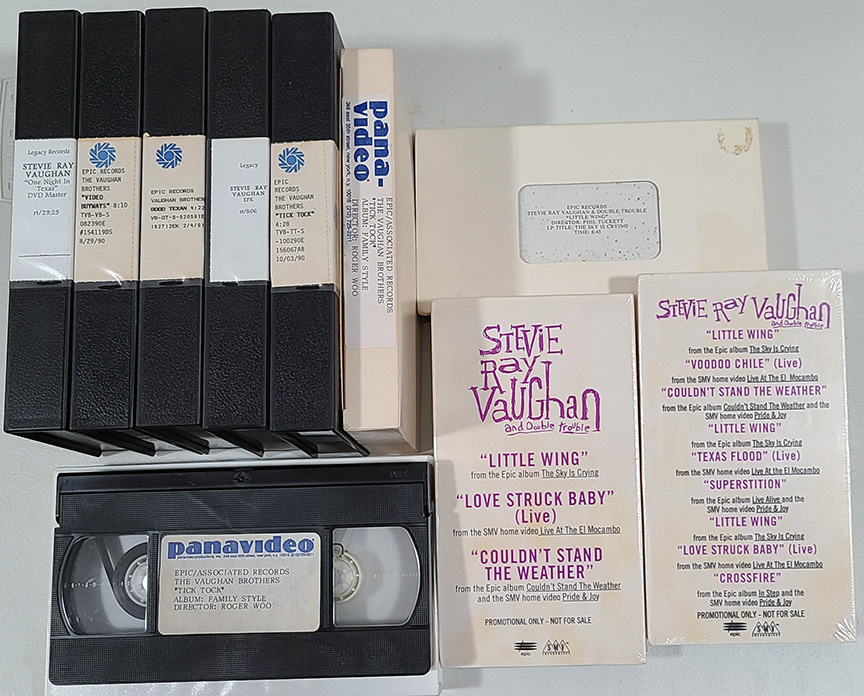 Stevie Ray Vaughan record company promotional VHS tapes, not sold in stores:
"One Night in Texas" master 29:25 minutes SOLD
Vaughan Brothers "Video Buyways" dated August 29, 1990, 8:10 minutes $50
"Good Texan" promo dated Feb. 4, 1991 $25
Legacy Records electronic press kit 8:06 minutes, 2001 Live in Montreux promo $25
"Tick Tock" dated Oct 3, 1990 (Stevie's birthday) 4:28 minutes $40
"Tick Tock" Panavideo promo (two copies) $20 each.
"Little Wing" 6:45 minutes $20
3-track promo VHS still sealed $35
9-track promo VHS still sealed SOLD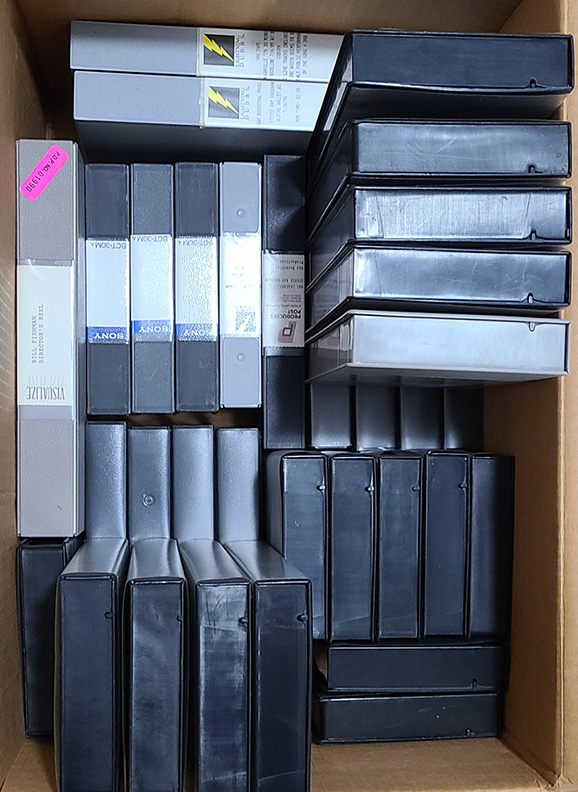 Stevie Ray Vaughan VH-1 "Legends" tv documentary director's personal tape collection. There are four different tape formats in this box of 33 tapes, most being VHS. This includes the unedited interview footage of Stevie's brother, Chris, Tommy and Doyle Bramhall, also some live footage collected from other media outlets AND rough cut and final cut of the documentary. Some interesting differences between the rough and final versions. One is titled "Director's Reel." I might be persuaded to throw in a copy of the unedited interview transcripts. I'm just going to keep these unless someone makes me an offer I cannot refuse.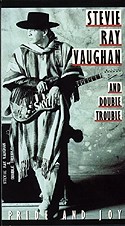 Pride & Joy DVD with 8 music videos. This is a home duplicate copy on DVD-R. $1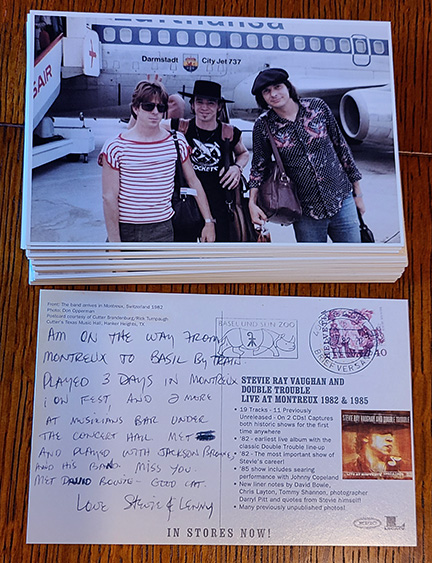 Stevie Ray Vaughan Live at Montreux promotional postcard, 2-sided, part of the back is a copy of Stevie's postcard he sent from Monteux in 1982; front is a photo taken by roadie Donnie Opperman. I have a stack. Tell me how many you want at $1 for two.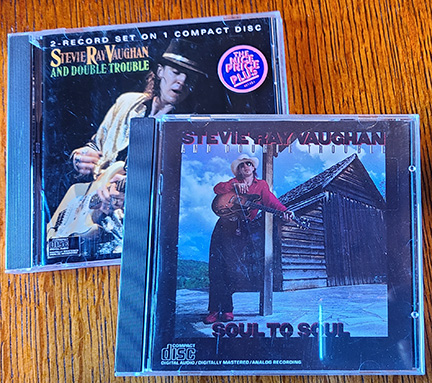 Stevie Ray Vaughan CD's: Live Alive and Soul to Soul. $4 for both (not each).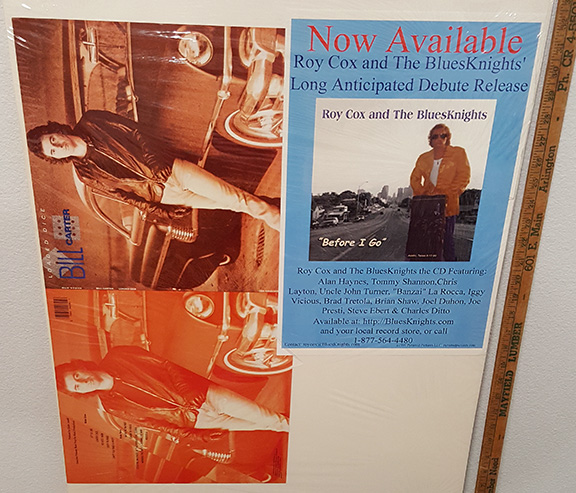 Two posters related to SRV: Bill Carter Loaded Dice album cover promotional poster. Stevie played on the album, 1989, approx. 12 x 24. Also Roy Cox poster, approx 11 x 17, promotional for album featuring Double Trouble, Alan Haynes, Uncle John Turner. $5 for both.
BOOKS
I currently have one copy for sale of the first two books about Stevie Ray Vaughan. They are in excellent condition with only minor shelf wear. They were the copies I gave my late mother. More information about each book is found in the SRV section of this website.
Stevie Ray Vaughan Anthology (1996) $125
The Essential Stevie Ray Vaughan (2000) $125
Stevie Ray Vaughan: Day By Day, Night After Night (2008 edition) SOLD
I can personalize them to the buyer(s).