Just getting started on this page…
Section 1: Animation Cels and Related
If you are not familiar with these collectibles, animation cels are handpainted on clear celluloid, and are filmed in sequence to create animated cartoons and movies. The backgrounds are separate pieces of art or film. I have always been a much bigger fan of the Warner Brothers cartoons (Bugs, Daffy, Foghorn Leghorn, Yosemite Sam, etc.) than Disney's squealing mouse and friends. I collected these animation and related artworks in the late 1970's and 1980's.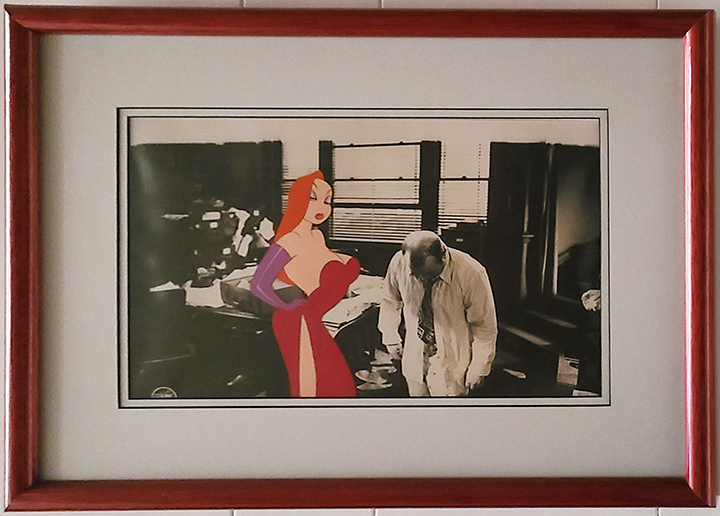 The infamous Jessica Rabbit from Who Framed Roger Rabbit? One of the most famous lines in the history of modern animated film, "I'm not bad. I'm just drawn that way." Roger Rabbit was a hugely successful film combining live action with animation.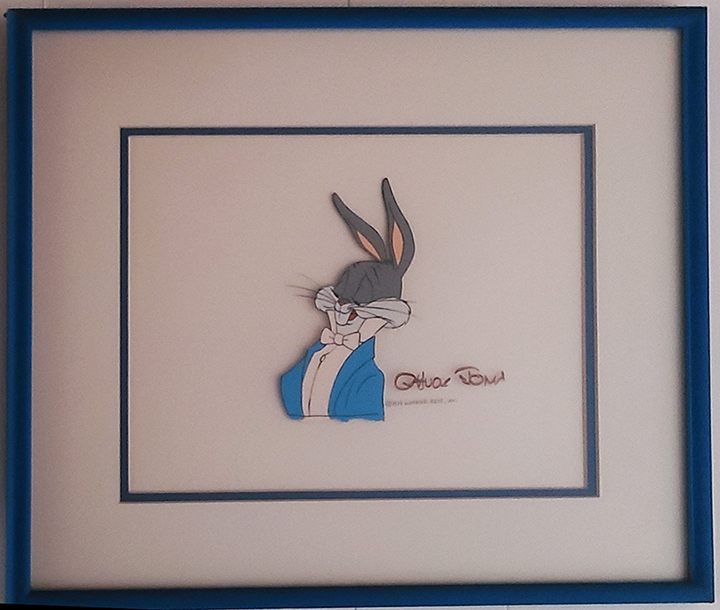 The most famous animated non-mouse character, Bugs Bunny. This cel is from the 1976 film Carnival of the Animals based on Camille Saint-Saëns' musical suite of the same name and consisting of entirely new animation, cast in the successful mold of Jones' own earlier musical cartoons (including Rabbit of Seville, Long-Haired Hare and Baton Bunny), featuring the showbiz rivalry between Bugs and Daffy against the orchestral backdrop of conductor Michael Tilson Thomas, in a performance based on Saint-Saëns' music and Ogden Nash's poetry. This cel is signed by Chuck Jones.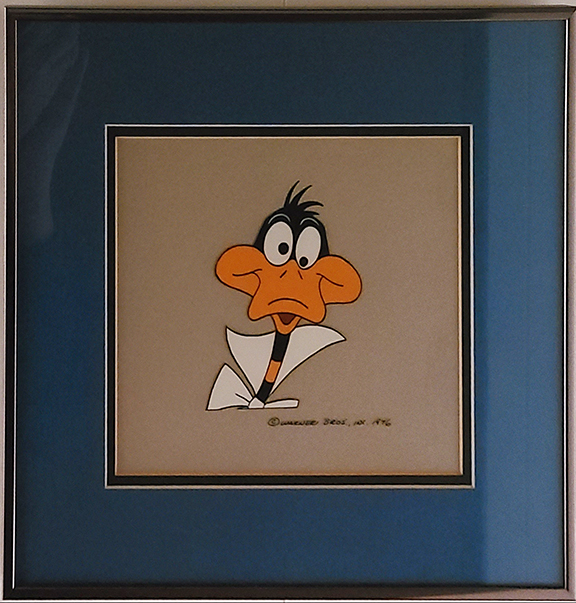 Daffy Duck in a fantastic pose, also from Carnival of the Animals in 1976.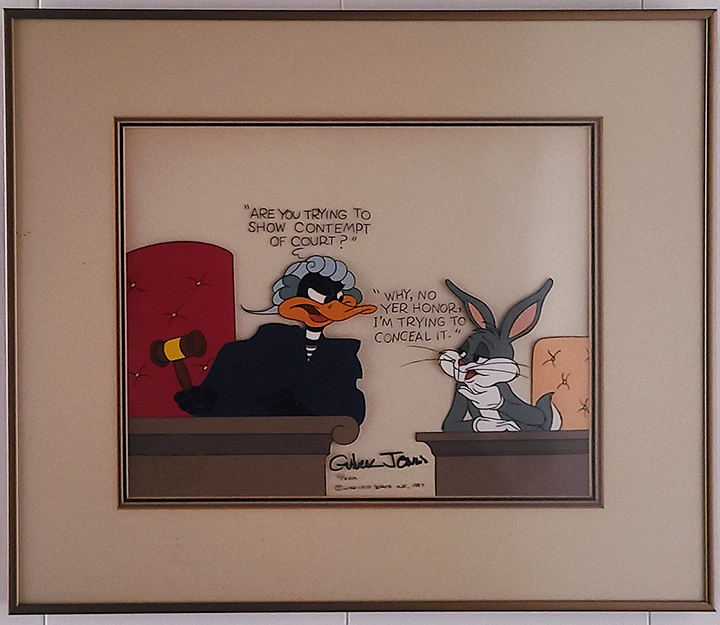 Bugs and Daffy one more time. This is a limited edition cel called "Contempt of Court," signed by Chuck Jones. This hung in my law office, and was a fairly accurate commentary on my opinion of some judges.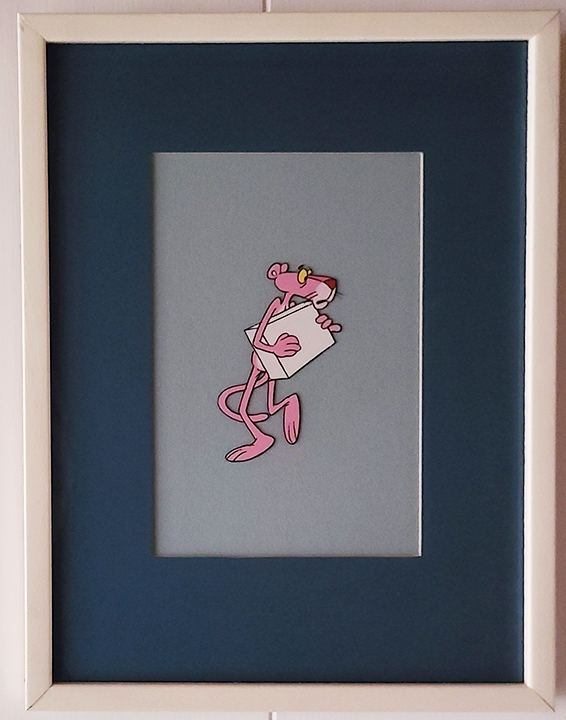 The Pink Panther. That sound you are hearing in your mind is the Pink Panther theme by Henry Mancini.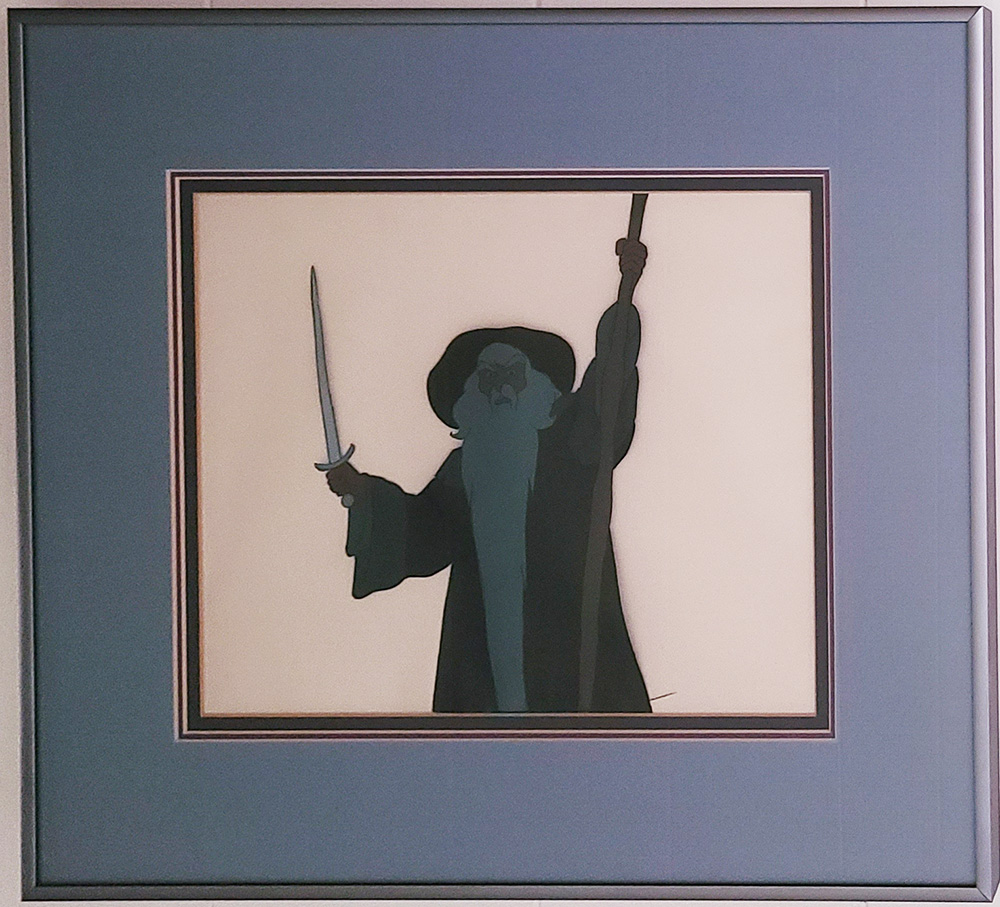 Changing gears – Gandalf the Grey from the movie Lord of the Rings by Ralph Bakshi in 1978. It was an influence on Peter Jackson's live action movies decades later.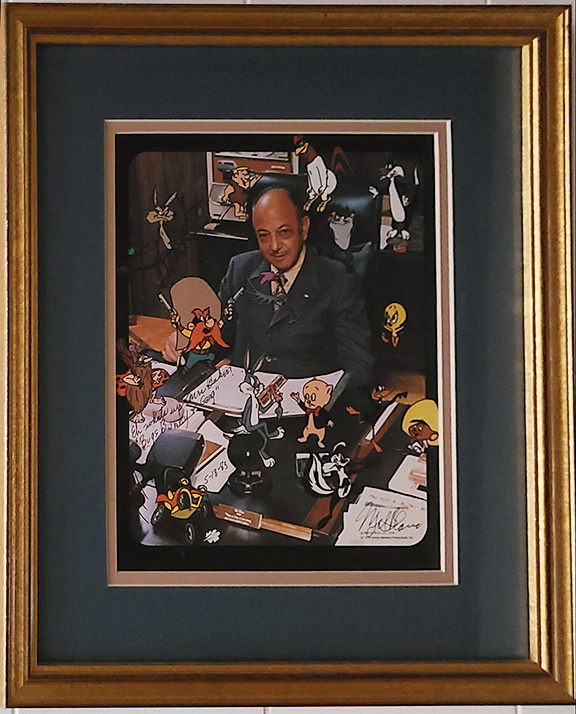 Autographed photo of the incomparable Mel Blanc, the voice of Bugs Bunny, Daffy Duck, Porky Pig, and most of the other characters from the Looney Tunes and Merrie Melodies theatrical cartoons during the golden age of American animation. He also voiced Barney Rubble, Mr. Spacely and Woody Woodpecker. Blanc was nicknamed "The Man of a Thousand Voices",and is regarded as one of the most influential people in the voice acting industry.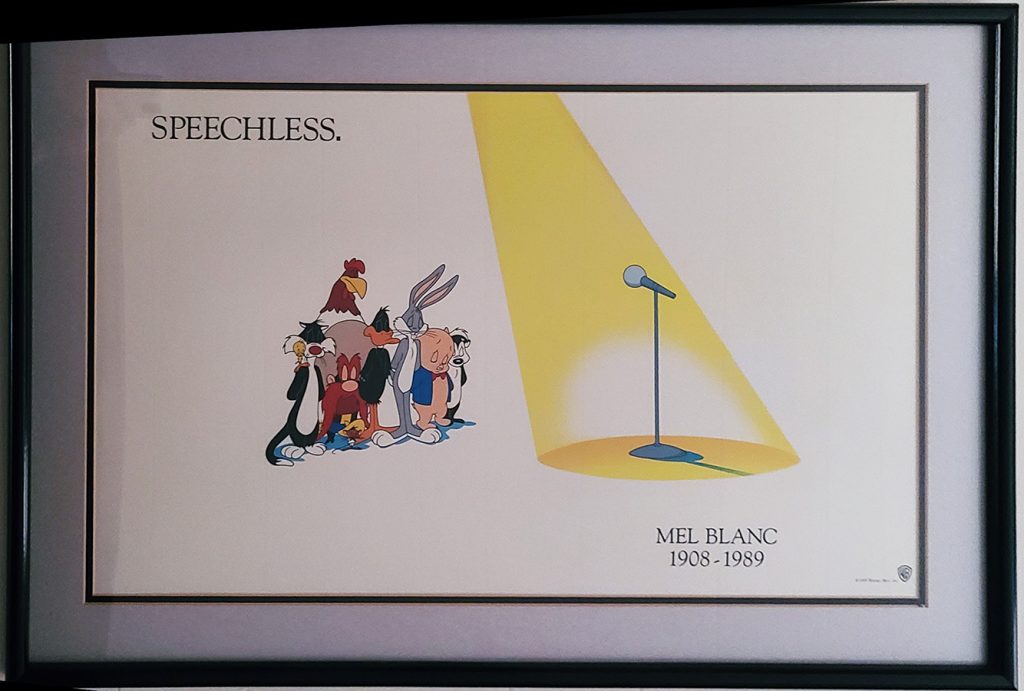 This is a tribute poster to Mel Blanc, made after he passed away. Probably the best tribute drawing I've ever seen.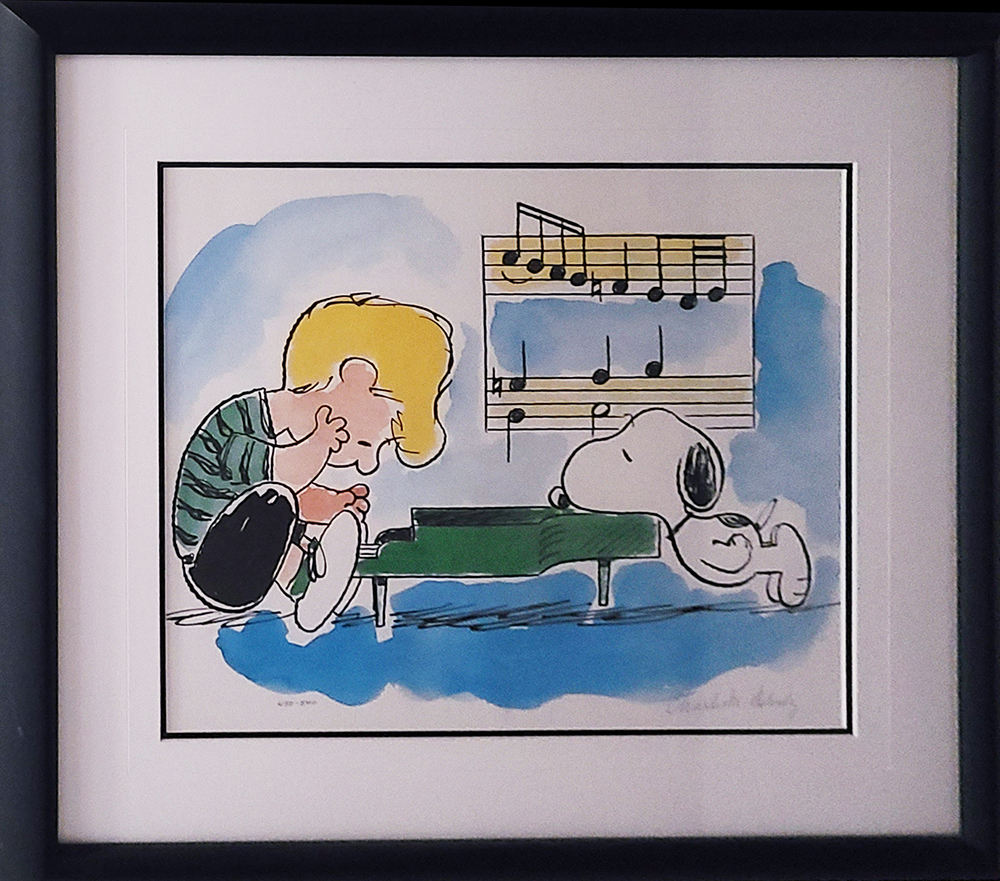 Lithograph of Schroeder and Snoopy signed by Charles M. Schulz, creator of the Peanuts comics and franchise. I was a huge Peanuts fan in my youth. All the Peanuts books I collected are still at my mother's house.
SECTION TWO: MUSIC MEMORABILIA
See other pages of the Virtual Museum for The Beatles and Stevie Ray Vaughan items.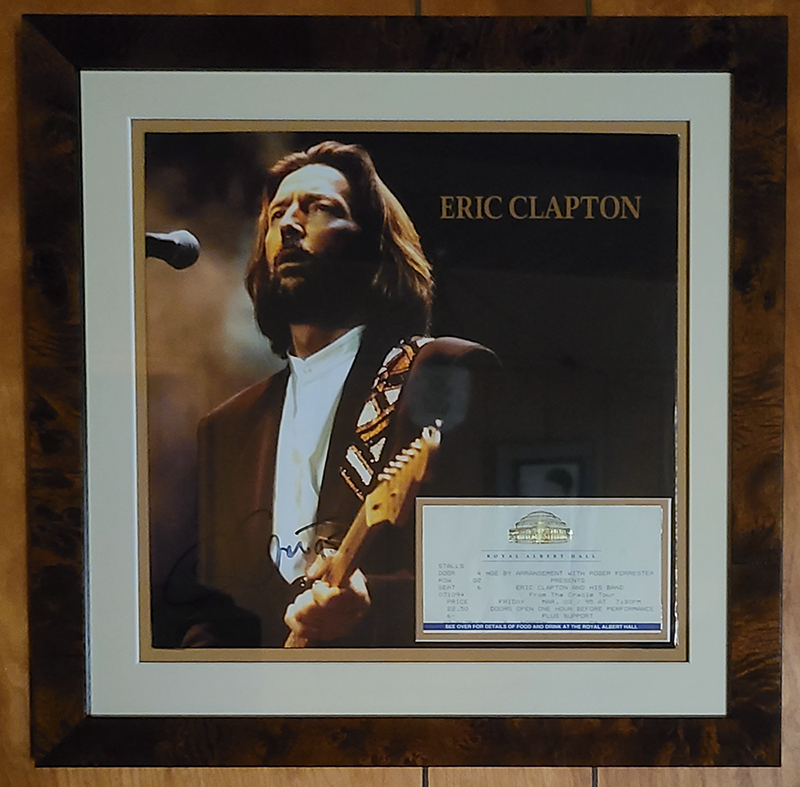 Eric Clapton signed 12″ single cover. Possibly my favorite photo of Clapton. I got this signed by leaving it with the concierge at Clapton's hotel in 1995. I got another autograph from him in person a few years later, but I have sold that one. This record cover is framed with a ticket stub from one of Eric's shows at the Royal Albert Hall in London.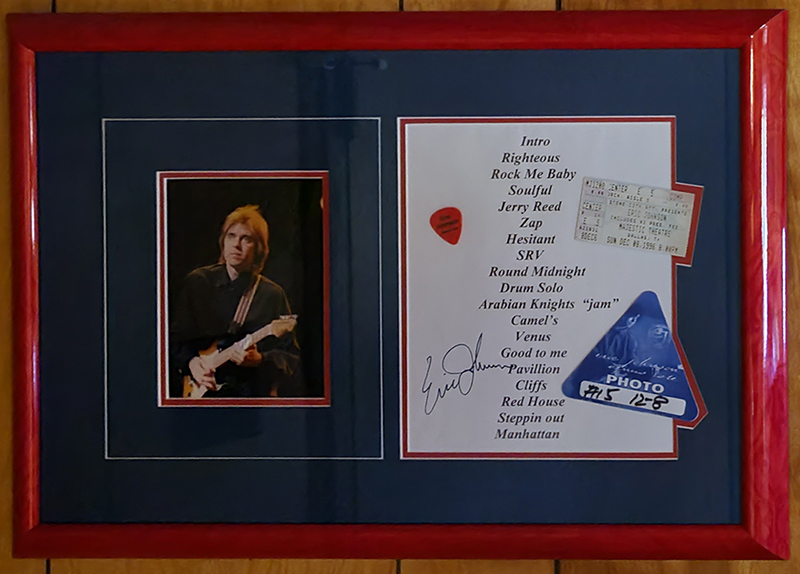 Tone master Eric Johnson – stage-used and signed set list, photo pass, guitar pick and ticket stub framed with a photo I took that night. December 8, 1996, Majestic Theater, Dallas.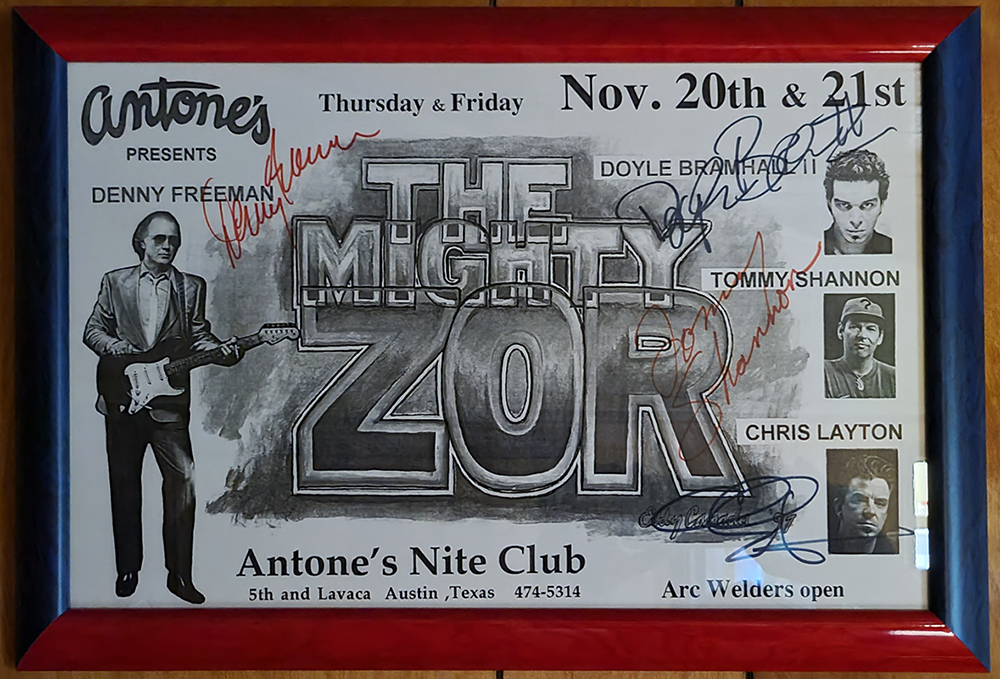 Extremely rare original 1998 poster for The Mighty Zor at Antone's in Austin. This lineup played very few shows using this name. I took the poster off the wall of the club and had all the guys sign it after the show. I can't find any evidence The Mighty Zor played more than a few gigs in Austin at the end of 1998.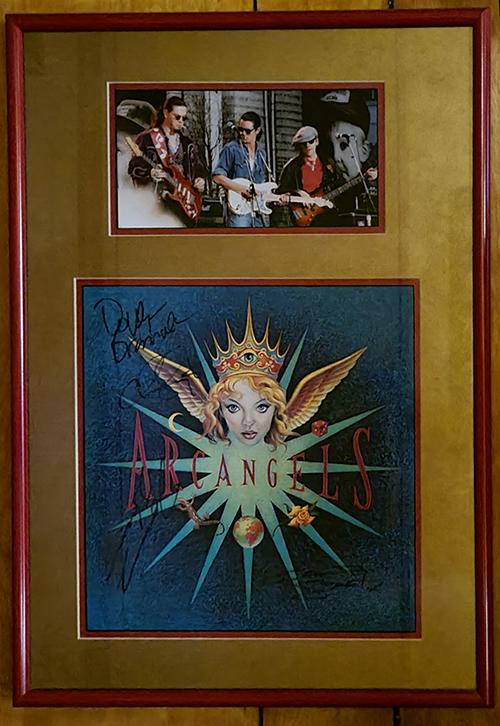 The ARC Angels, signed album flat. Doyle Bramhall II, Charlie Sexton, Chris Layton, Tommy Shannon. The photo is one I took at Farm Aid V in 1992. They disbanded in 1993 but have reunited for a few gigs since.
SECTION THREE: OTHER COLLECTIBLES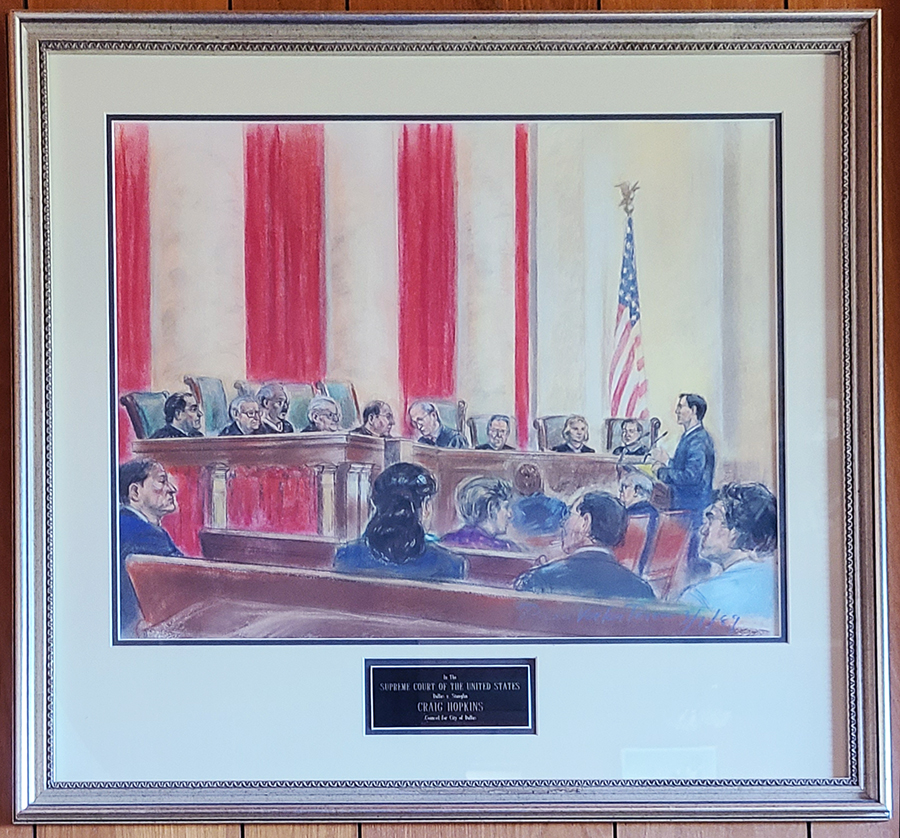 A real courtroom drawing of argument in the United States Supreme Court by noted artist Dana Verkouteren. This was done in 1989.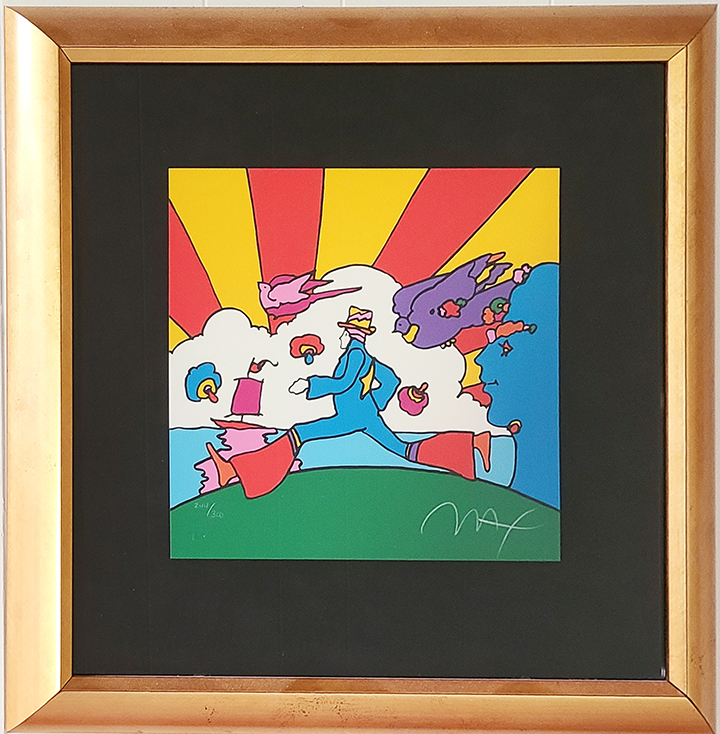 Limited edition lithograph "Cosmic Runner" by pop artist Peter Max. I bought this at a gallery in Cleveland during the Grand Opening of the Rock and Roll Hall of Fame in 1995. I was there on a press pass to shoot images for a touring industry magazine that my friend worked for. We stumbled on Peter Max coming out of the gallery in the mall late one night, and he gave us invitations to the exhibition opening the next day. He drew a personalized sketch on the back of the frame. I met Peter again 20 years later in Missouri at another exhibition opening.