Just getting started on this page…
Section 1: Animation Cels and Related
If you are not familiar with these collectibles, animation cels are handpainted on clear celluloid, and are filmed in sequence to create animated cartoons and movies. The backgrounds are separate pieces of art or film. I have always been a much bigger fan of the Warner Brothers cartoons (Bugs, Daffy, Foghorn Leghorn, Yosemite Sam, etc.) than Disney's squealing mouse and friends. I collected these animation and related artworks in the late 1970's and 1980's.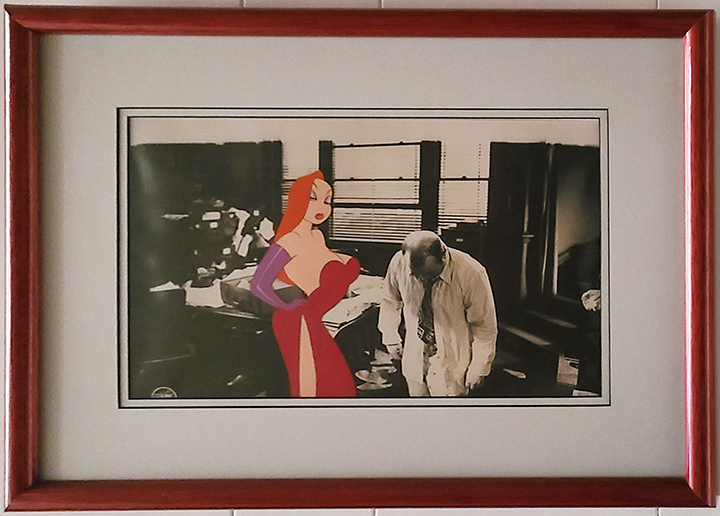 The infamous Jessica Rabbit from Who Framed Roger Rabbit? One of the most famous lines in the history of modern animated film, "I'm not bad. I'm just drawn that way." Roger Rabbit was a hugely successful film combining live action with animation.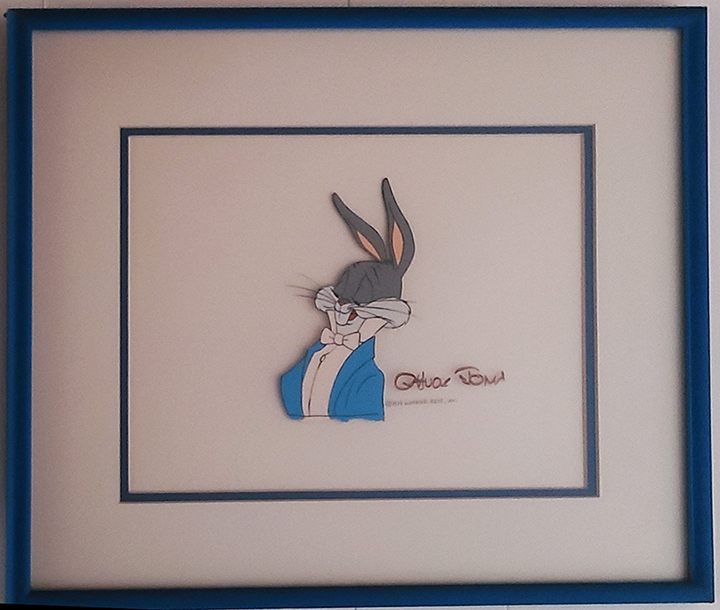 The most famous animated non-mouse character, Bugs Bunny. This cel is from the 1976 film Carnival of the Animals based on Camille Saint-Saëns' musical suite of the same name and consisting of entirely new animation, cast in the successful mold of Jones' own earlier musical cartoons (including Rabbit of Seville, Long-Haired Hare and Baton Bunny), featuring the showbiz rivalry between Bugs and Daffy against the orchestral backdrop of conductor Michael Tilson Thomas, in a performance based on Saint-Saëns' music and Ogden Nash's poetry. This cel is signed by Chuck Jones.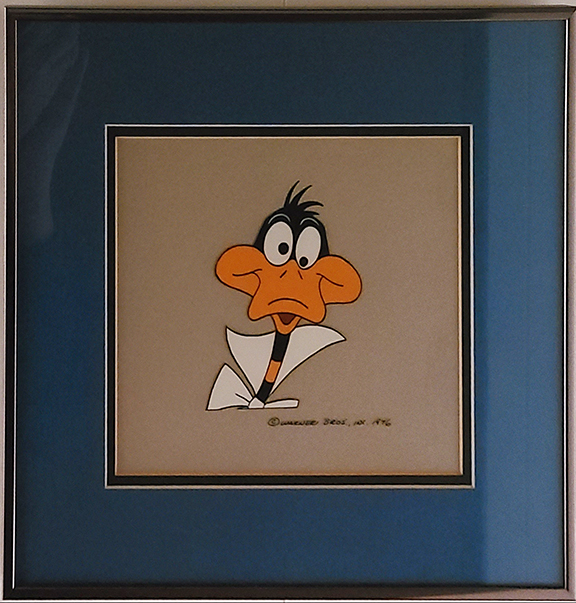 Daffy Duck in a fantastic pose, also from Carnival of the Animals in 1976.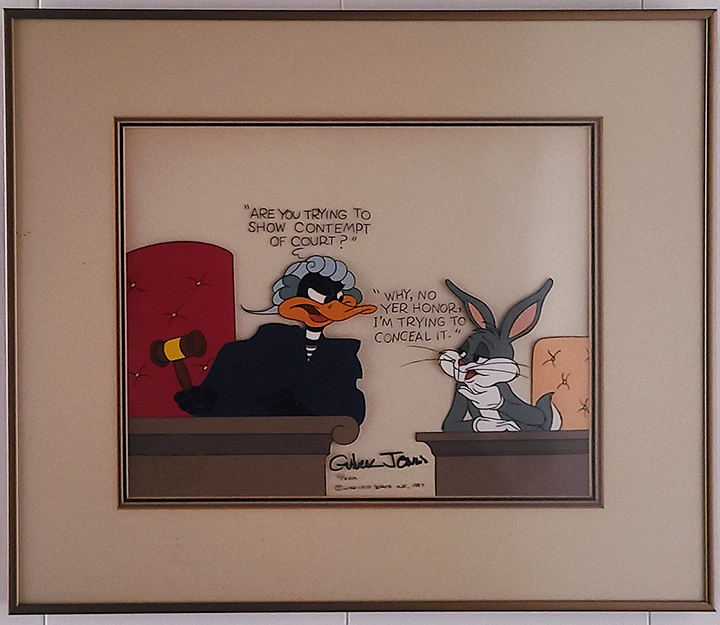 Bugs and Daffy one more time. This is a limited edition cel called "Contempt of Court," signed by Chuck Jones. This hung in my law office, and was a fairly accurate commentary on my opinion of some judges.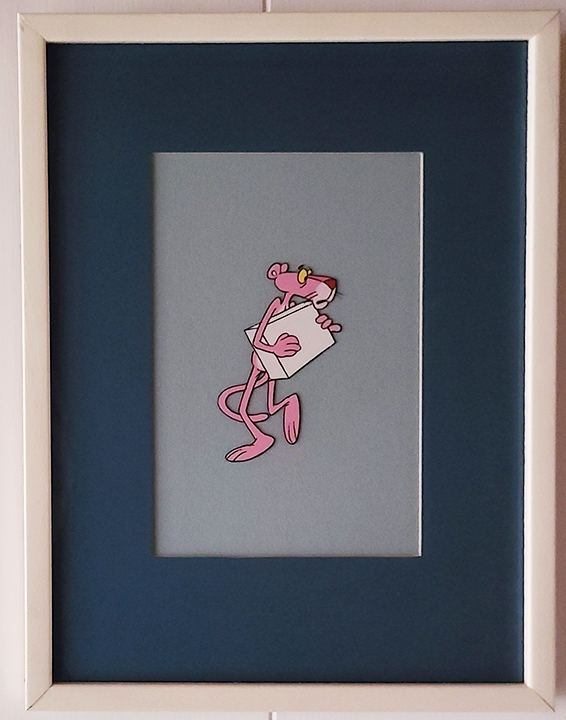 The Pink Panther. That sound you are hearing in your mind is the Pink Panther theme by Henry Mancini.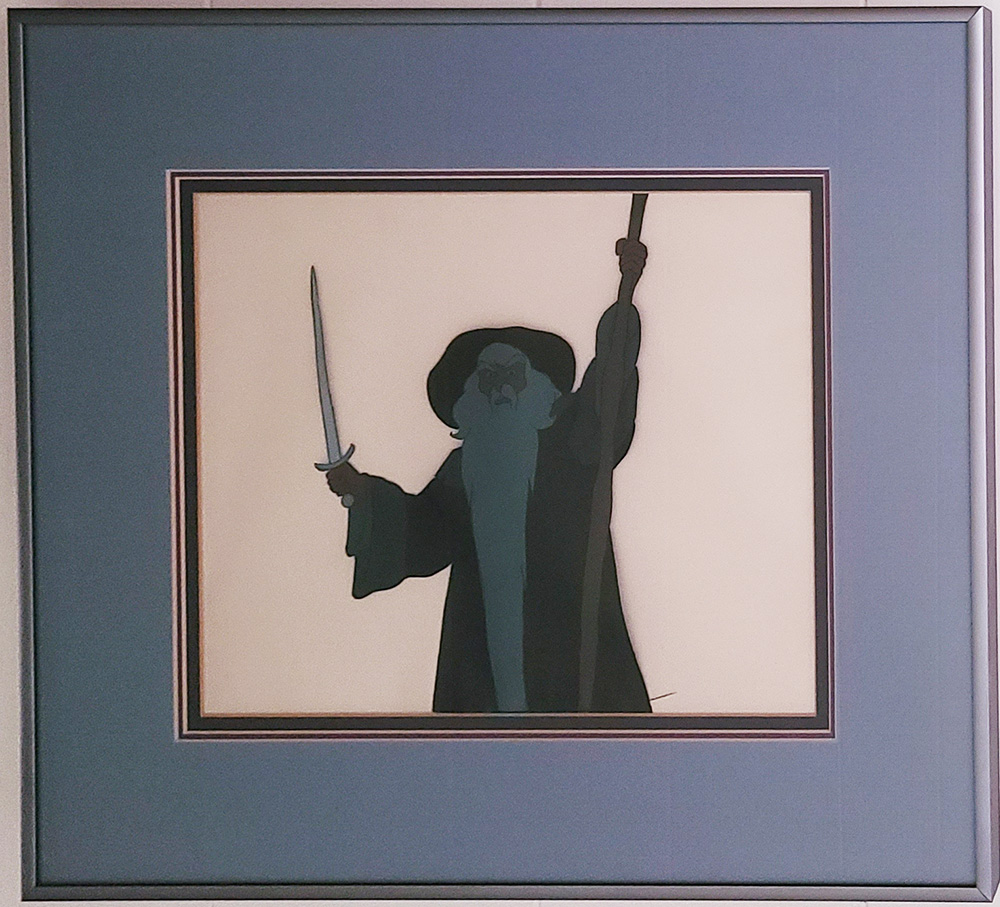 Changing gears – Gandalf the Grey from the movie Lord of the Rings by Ralph Bakshi in 1978. It was an influence on Peter Jackson's live action movies decades later.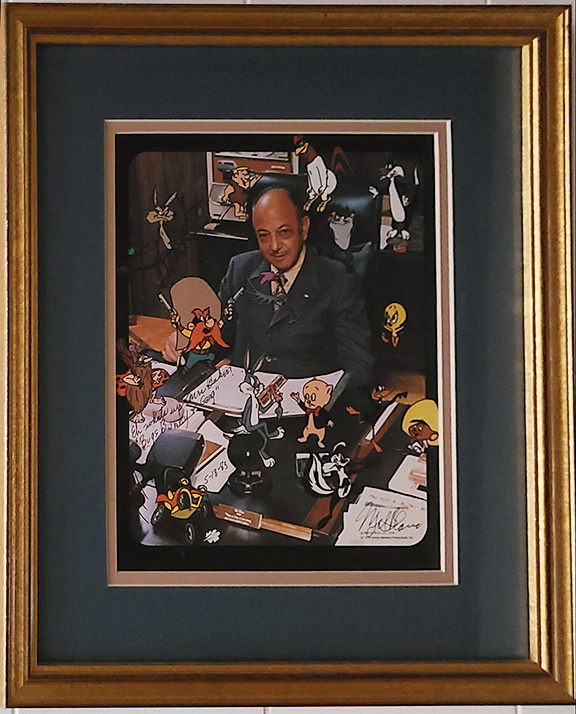 Autographed photo of the incomparable Mel Blanc, the voice of Bugs Bunny, Daffy Duck, Porky Pig, and most of the other characters from the Looney Tunes and Merrie Melodies theatrical cartoons during the golden age of American animation. He also voiced Barney Rubble, Mr. Spacely and Woody Woodpecker. Blanc was nicknamed "The Man of a Thousand Voices",and is regarded as one of the most influential people in the voice acting industry.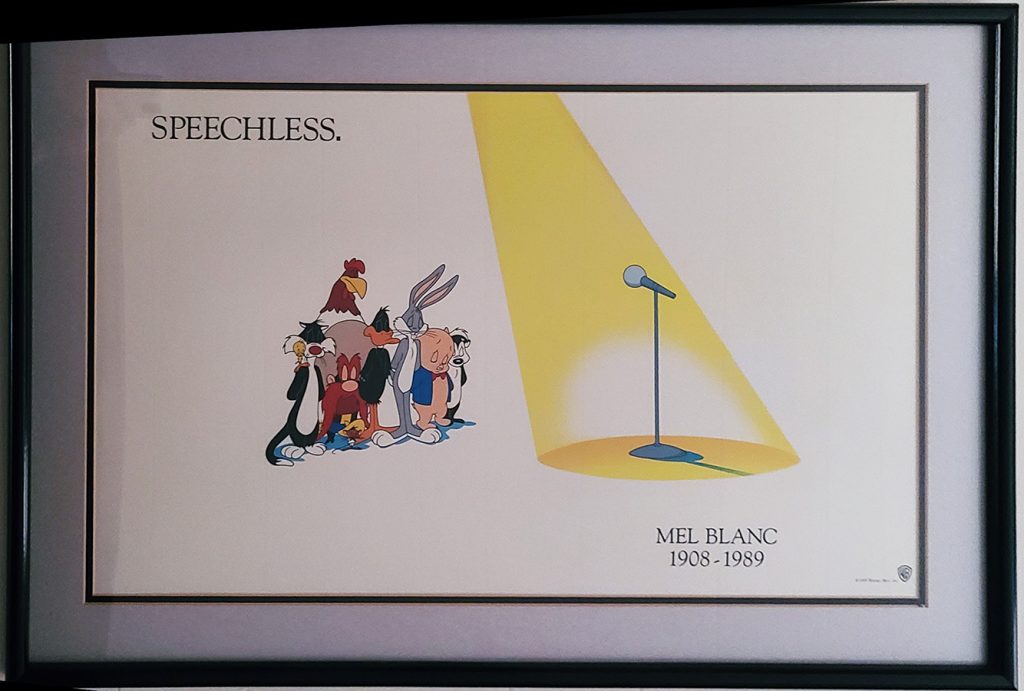 This is a tribute poster to Mel Blanc, made after he passed away. Probably the best tribute drawing I've ever seen.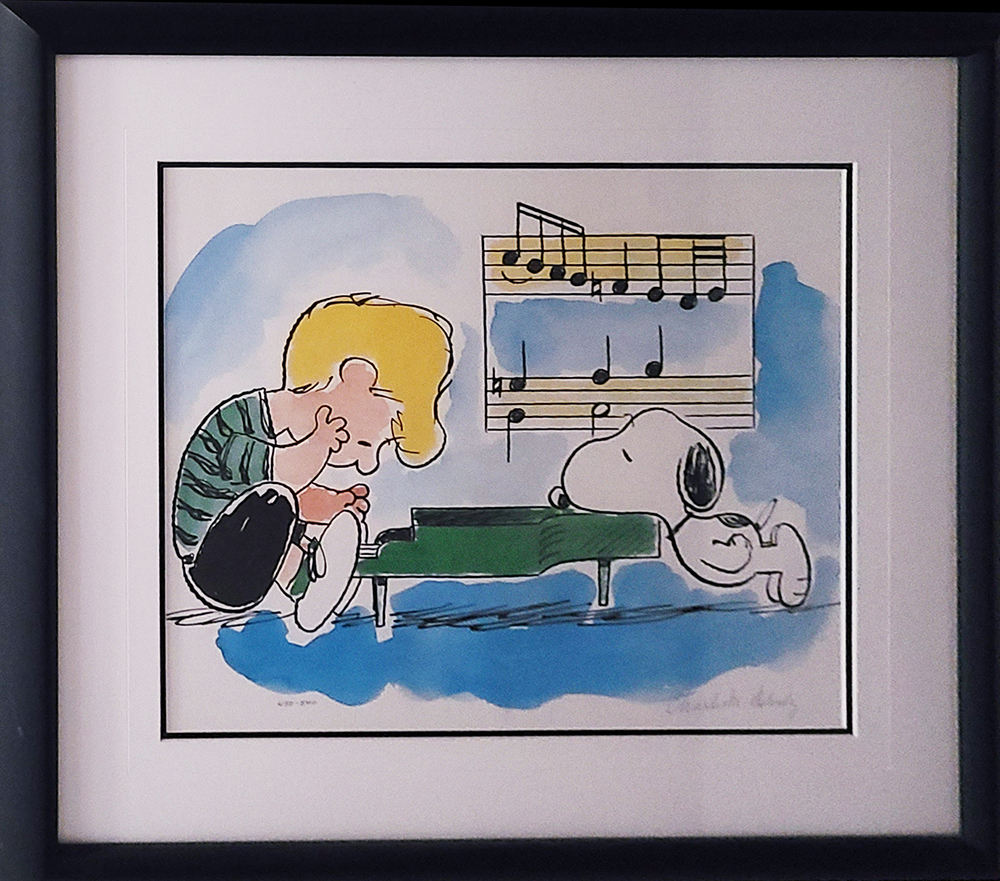 Lithograph of Schroeder and Snoopy signed by Charles M. Schulz, creator of the Peanuts comics and franchise. I was a huge Peanuts fan in my youth. All the Peanuts books I collected are still at my mother's house.
SECTION 2: MUSIC MEMORABILIA
See other pages of the Virtual Museum for The Beatles and Stevie Ray Vaughan items.
JIMI HENDRIX STAGE-WORN SHIRT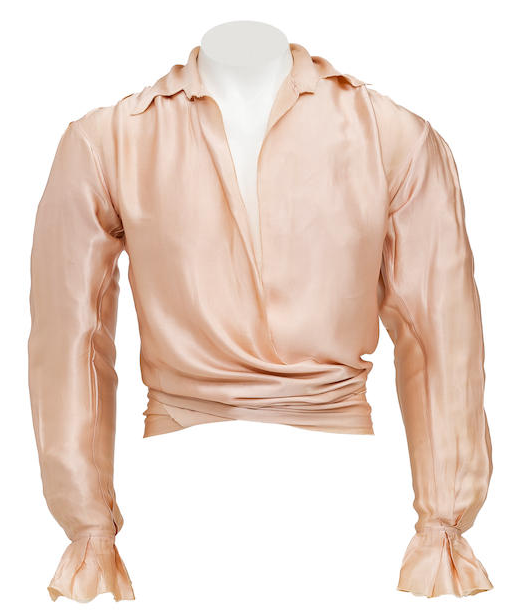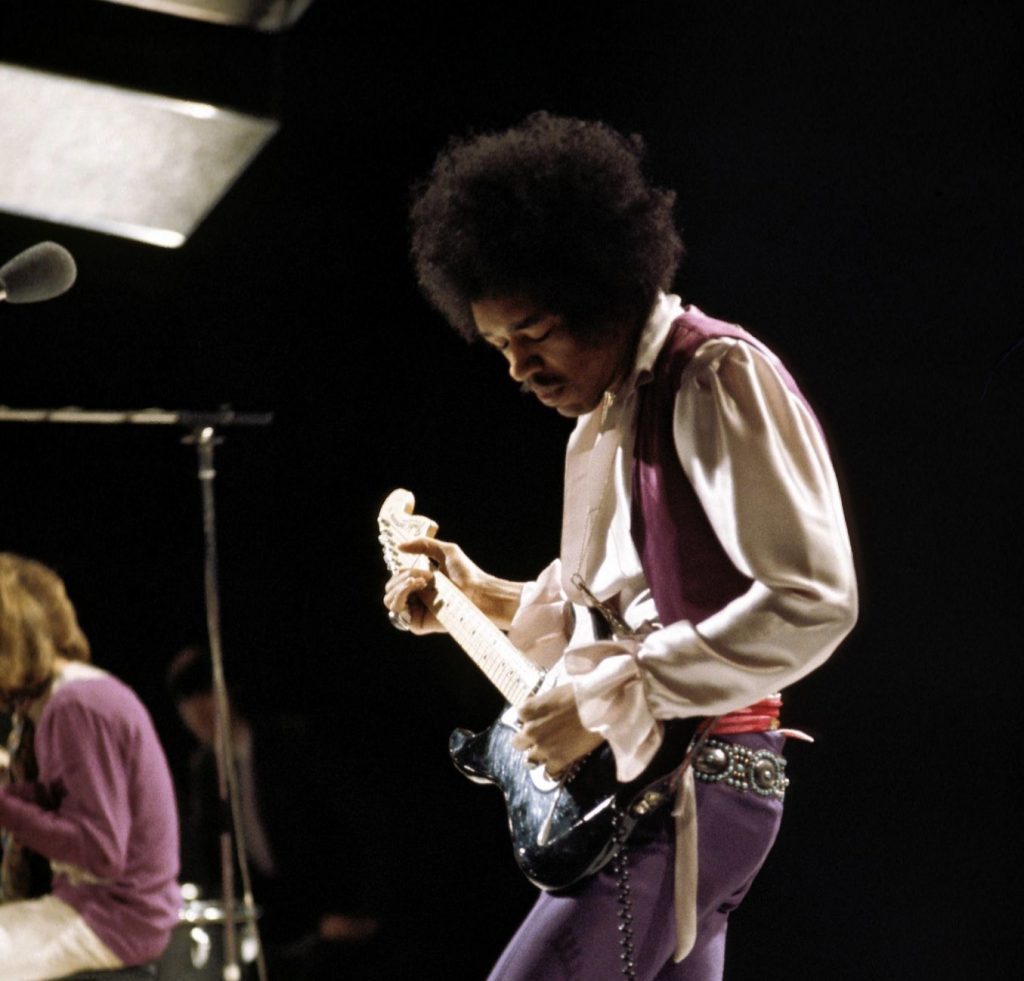 A shirt of pale pink satin, the wrap shirt with tie fastening and voluminous cuffs, was worn by Jimi Hendrix on stage during a performance on the BBC television show Happening for Lulu which aired on January 4, 1969. The shirt was later gifted to model and designer Melinda Merryweather, a friend of Jimi's and the art director for the 1970 film starring Hendrix, Rainbow Bridge.
The shirt was worn during a well-documented, controversial performance. Jimi Hendrix was not pleased to learn that the show's producer wanted him to sing with the winsome pop singer of "To Sir, With Love." The plan called for The Jimi Hendrix Experience to open their set with "Voodoo Child (Slight Return)" and then play their early hit "Hey Joe," with Lulu joining Hendrix onstage at the end to sing the final bars with him before segueing into her regular show-closing number. Before Lulu had a chance to join them onstage – Hendrix signaled to the others to quit playing. "We'd like to stop playing this rubbish, and dedicate a song to the Cream." With that the band veered off into an instrumental version of "Sunshine of Your Love" by the recently disbanded Cream.
Noel Redding continues the story:  "This was fun for us, but producer Stanley Dorfman didn't take it at all well as the minutes ticked by on his live show. Short of running onto the set to stop us or pulling the plug, there was nothing he could do. We played past the point where Lulu might have joined us, played through the time for talking at the end, played through Stanley tearing his hair, pointing to his watch and silently screaming at us. We played out the show. Afterwards, Dorfman refused to speak to us but the result is one of the most widely used bits of film we ever did. Certainly, it's the most relaxed."
            The stunt reportedly got Hendrix banned from the BBC, and made rock and roll history. Hendrix, the most innovative electric guitar player of all time, was also noted for his flamboyant stage wardrobe, of which this pink satin shirt is an excellent example.
BUDDY HOLLY STAGE-WORN SWEATER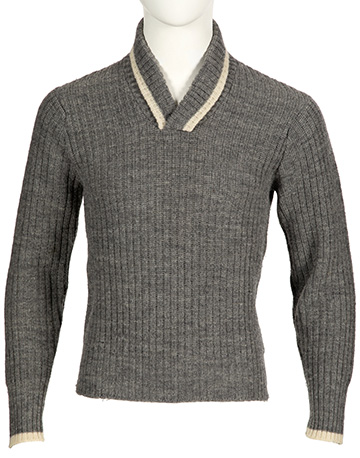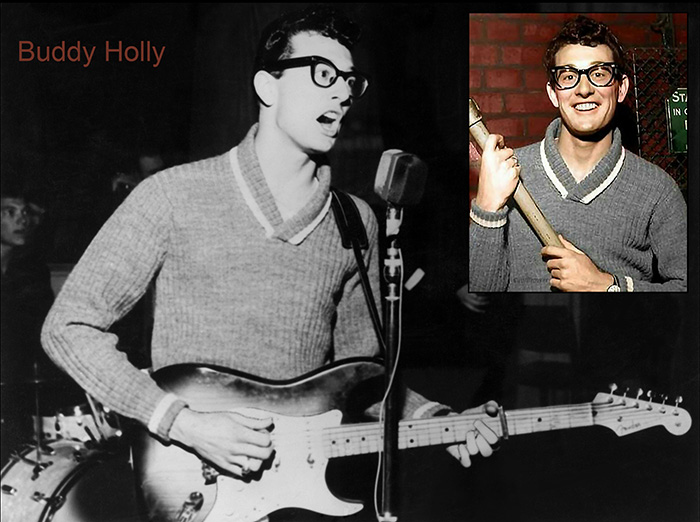 The tragic story of Buddy Holly, one of rock and roll's greatest early stars, is well known, memorialized in song ("American Pie"), stage ("Buddy") and film (The Buddy Holly Story). This sweater, purchased in his hometown, Lubbock, Texas, was worn by Buddy a number of times, including as pictured above at the Trocadero in London on February 2, 1958. It was sold at auction by the Estate of Buddy Holly.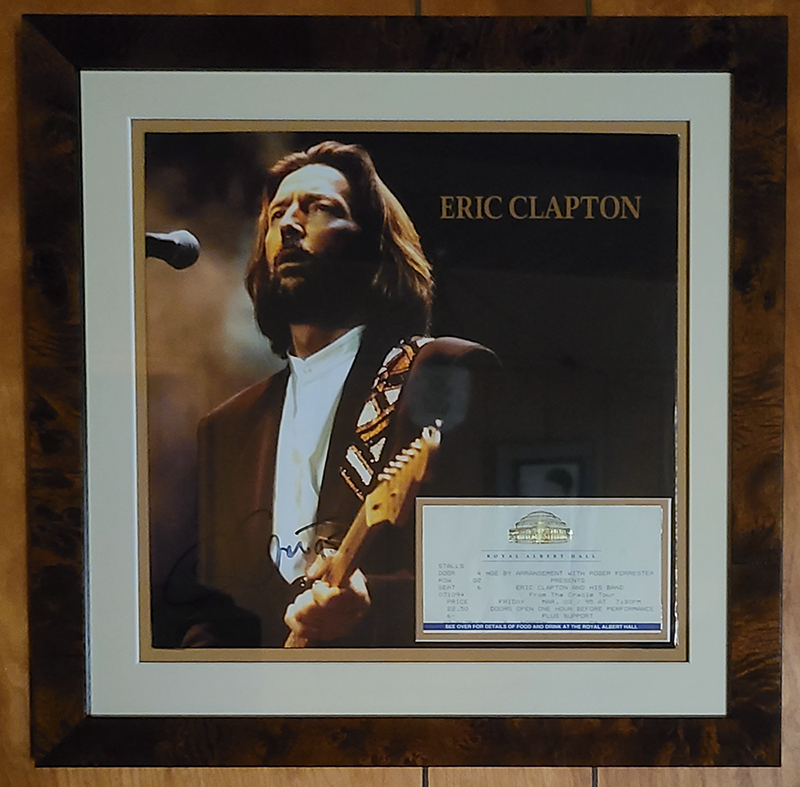 Eric Clapton signed 12″ single cover. Possibly my favorite photo of Clapton. I got this signed by leaving it with the concierge at Clapton's hotel in 1995. I got another autograph from him in person a few years later, but I have sold that one. This record cover is framed with a ticket stub from one of Eric's shows at the Royal Albert Hall in London.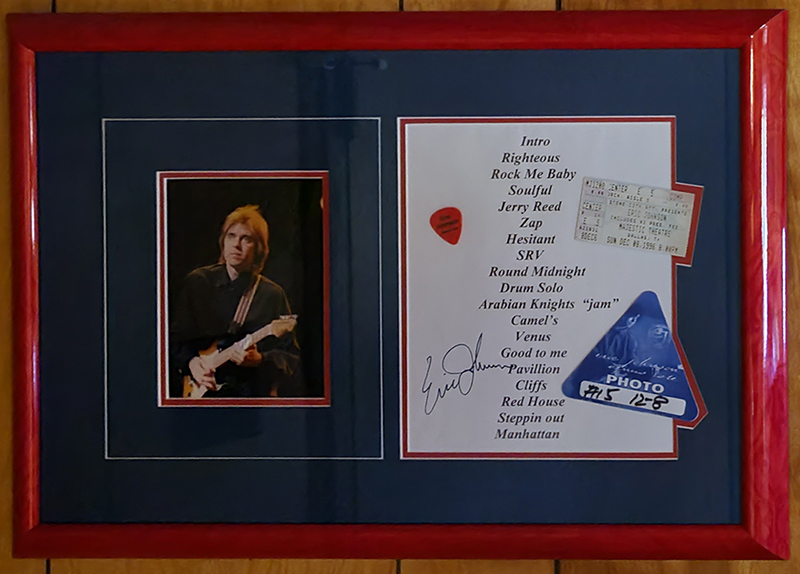 Tone master Eric Johnson – stage-used and signed set list, photo pass, guitar pick and ticket stub framed with a photo I took that night. December 8, 1996, Majestic Theater, Dallas.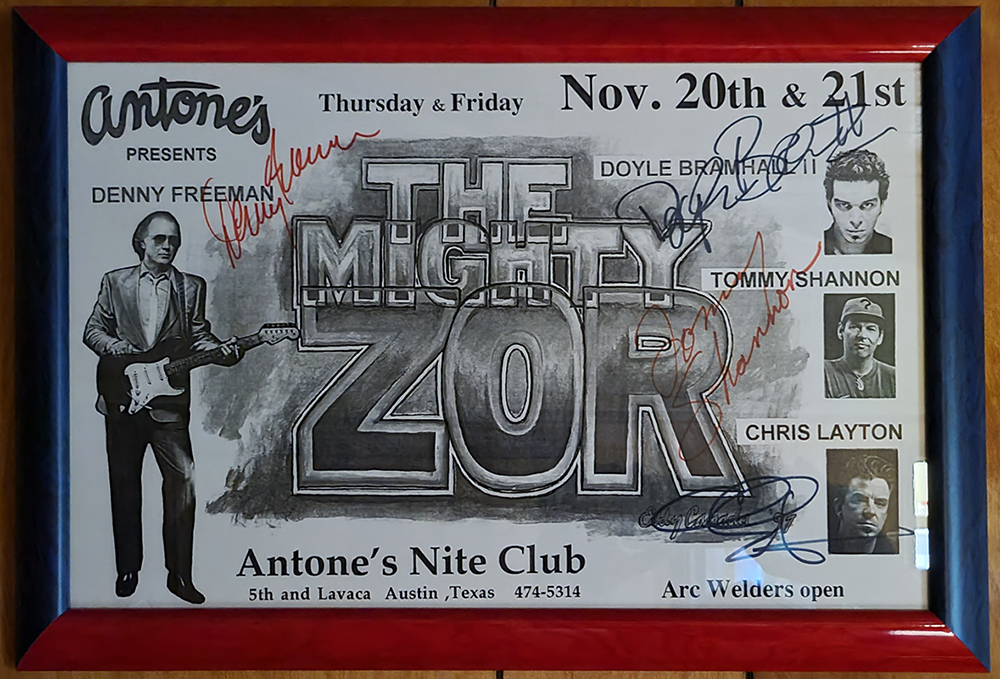 Extremely rare original 1998 poster for The Mighty Zor at Antone's in Austin. This lineup played very few shows using this name. I took the poster off the wall of the club and had all the guys sign it after the show. I can't find any evidence The Mighty Zor played more than a few gigs in Austin in 1997-1998.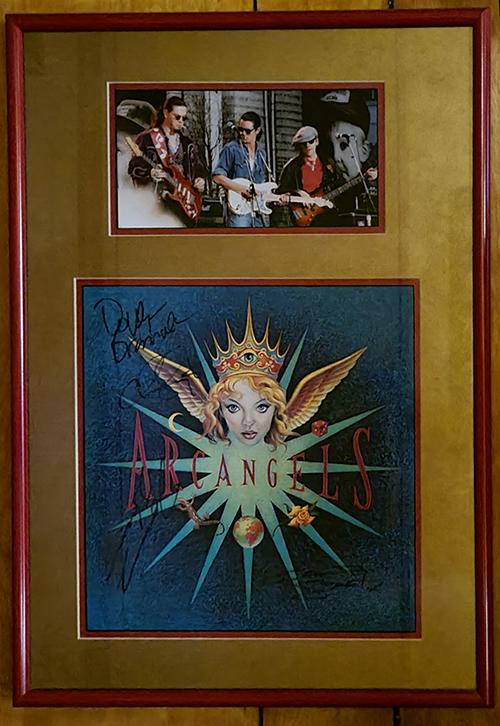 The ARC Angels, signed album flat. Doyle Bramhall II, Charlie Sexton, Chris Layton, Tommy Shannon. The photo is one I took at Farm Aid V in 1992. They disbanded in 1993 but have reunited for a few gigs since.
SECTION 3: SPORTS COLLECTIBLES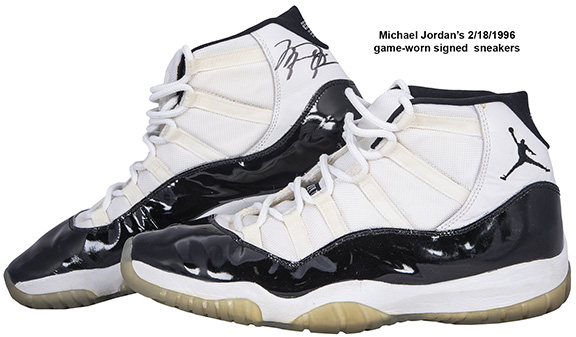 MICHAEL JORDAN'S 2/18/1996 GAME-WORN,
AUTOGRAPHED SNEAKERS
Michael Jordan transcends the sport of basketball and is regarded as one of the greatest athletes of all time due to his unique combination of fundamentals, grace, speed, strength, improvisation and competitiveness. His accomplishments include: Rookie of the Year; five-time NBA MVP; six-time NBA champion; six-time NBA Finals MVP; ten-time All-NBA First Team; nine-time NBA All-Defensive First Team; Defensive Player of the Year; 14-time NBA All-Star (twice winning the dunk competition); three-time NBA All-Star MVP; ten scoring titles; and he retired with the highest scoring average in NBA history (30.1ppg). He was a first-ballot Hall of Fame inductee.
Jordan hit the game-winning shot to win the NCAA Championship for North Carolina; twice College Player of the Year; Olympic gold-medalist in 1984 and as the star of the 1992 "Dream Team." In 1999, he was named the greatest North American athlete of the 20th century by ESPN, and was second to Babe Ruth on the Associated Press' list of athletes of the century. Americans opined in a 2009 poll that Jordan is the greatest athlete of all-time. President Barack Obama honored Michael Jordan with the Presidential Medal of Freedom, the highest civilian honor in the United States. He is exceptionally successful in business and is known for his charitable activities. His "jumpman" silhouette is recognized around the globe. In 2020 his career was treated to an Emmy-winning 10-part documentary series running more than 8 hours.
In 1995-96, Jordan led the Chicago Bulls to an unprecedented 72-win campaign, culminating with their 4th NBA title. Jordan won the NBA scoring title and was named Most Valuable Player of the season, the All-Star Game and the NBA Finals. During a tough road game against Reggie Miller and the Indiana Pacers on February 18th, 1996, Jordan's line was 44 points, 7 assists, 5 rebounds, 3 steals and 2 blocks to lead the Bulls to victory.
The Air Jordan Concord 11 shoes worn by Michael Jordan in that game were autographed and given to Bill Bevan, the official scorekeeper. Bevan visited both locker rooms before every game to receive the player lineups and injury reports, and he would see the players at the scorer's table each time they checked into the game. A journalist wrote about Bevan, "He has joked with Michael Jordan before tip-offs, [and] traded barbs with Charles Barkley in the locker room." During Bevan's final season, visiting teams presented him with signed team memorabilia.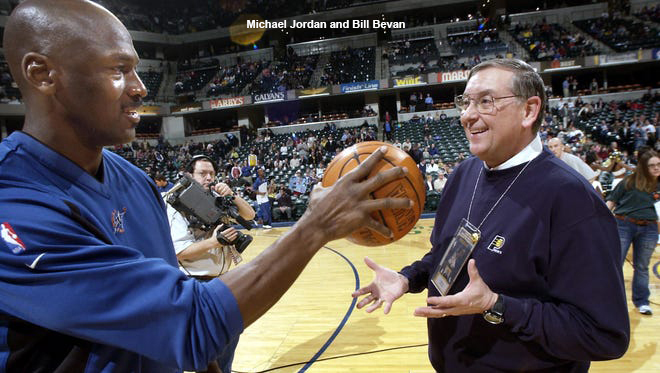 These game-used, autographed Concord 11 shoes have Jordan's number 23 embroidered on both heels and are tagged "Sample FTPS" indicating they are player samples issued directly to Jordan. A photograph of Jordan wearing these shoes appears on an Upper Deck trading card.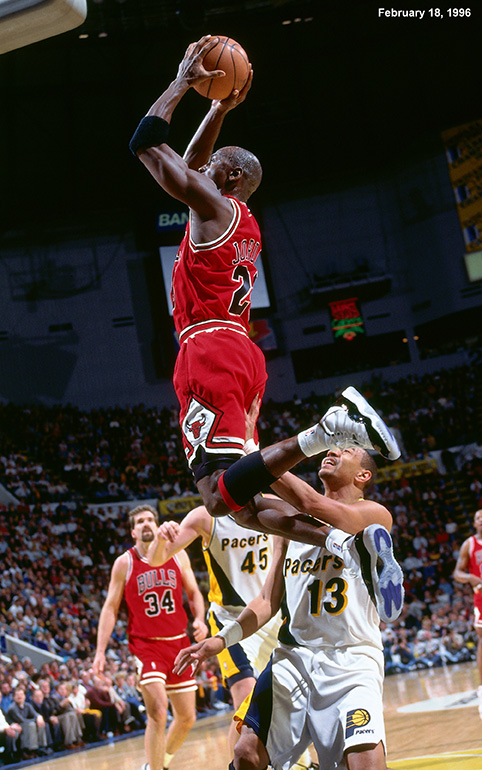 Jordan sneakers created the collectible sneaker market almost single-handedly in 1985, and have sold for as much as $615,000, the highest price ever paid for athletic shoes. Sneakers are now an asset class, on display at museums and fueling a profitable resale market. Jordan's shoe design changes annually. For the 11th iteration Jordan wanted sneakers he could wear on the court or with a suit. Designer Tinker Hatfield's solution was patent leather, which also made the shoe stronger. Through film magic in a commercial for the 11, Jordan dunks the ball in a hoop 100 feet high. He also wore 11's in the live action animated movie Space Jam.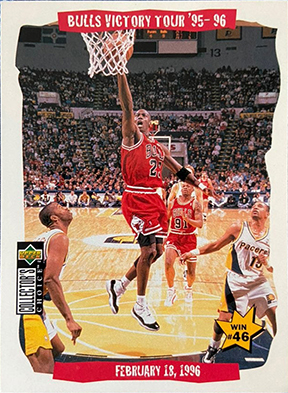 The 11's were dubbed "Concord" for the purple herringbone inserts on the soles. The 1996 Air Jordan Concord 11 is often referred to as the sneaker collector's grail. According to NBA all-star Chris Paul, "The Concord will always be the ultimate grail. That design reimagined what a basketball sneaker could look like. After M.J. wore them on court, everybody wanted them whether they hooped or not. You can wear them for any occasion and know that you'll have the most classic sneakers on your feet." Celebrities have worn the Air Jordan 11's in music videos, awards shows, weddings and films, and many basketball players have worn them on court, including Carmelo Anthony who said, "Certain shoes like that are timeless. That's why people call it a grail."
Spike Lee created a character called Mars Blackmon who asked in a Nike commercial, "Hey Michael, what makes you the greatest player in the universe?" Blackmon insisted, "It's gotta be the shoes!"
DIRK NOWITZKI'S AUTOGRAPHED SHOES
Continuing on the sneaker theme, Dirk Nowitzki (see bio below) donated these shoes to charity benefiting St. Jude's Children's Hospital. They were issued to Dirk during the 2011 NBA championship season, as noted on the box. Each toe box is signed by the Dallas Mavericks G.O.A.T.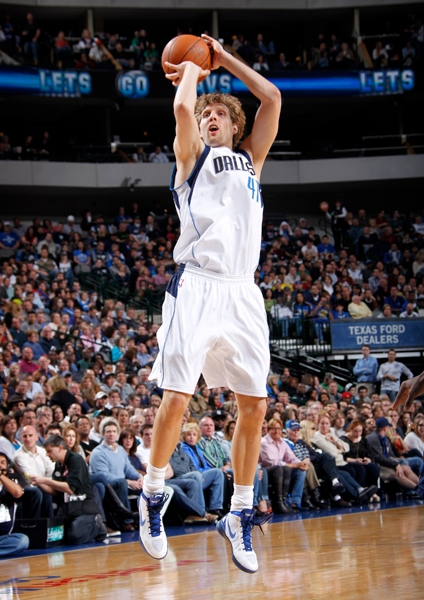 Above is a photo of Dirk wearing this style sneaker. Below is a snap of me wearing one of them!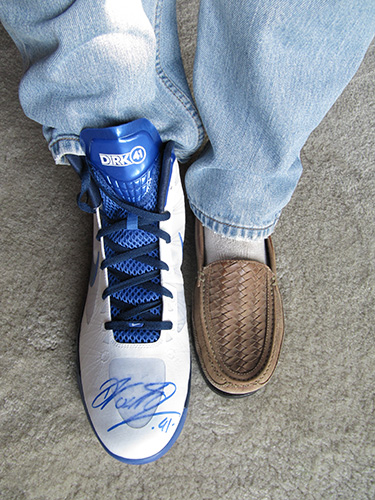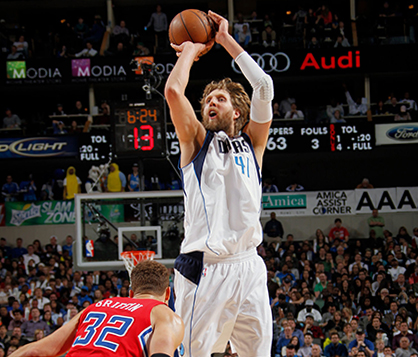 DIRK NOWITZKI'S 3/26/2013 GAME-WORN,
AUTOGRAPHED JERSEY
Dirk Nowitzki is widely regarded as one of the greatest power forwards of all time and is considered by many to be the greatest European player of all time. Nowitzki led the Mavericks to 15 NBA playoff appearances, including the franchise's first Finals appearance in 2006 and its only NBA championship in 2011. Known for his scoring ability, versatility, accurate outside shooting, and trademark fadeaway jump shot, Nowitzki won the NBA Most Valuable Player Award in 2007 and the NBA Finals Most Valuable Player Award in 2011.
Nowitzki is the only player ever to play for a single NBA franchise for 21 seasons. He is a 14-time All-Star, a 12-time All-NBA Team member, the first European player to start in an All-Star Game, and the first European player to receive the NBA Most Valuable Player Award. Nowitzki is the highest-scoring foreign-born player in NBA history. He is the first Maverick voted onto an All-NBA Team and holds several all-time Mavericks franchise records. On December 10, 2012, he became the first non-American player to receive the Naismith Legacy Award. Following his retirement, Nowitzki stood sixth on the list of National Basketball Association career scoring leaders with 31,560 points, just behind Michael Jordan.
In the 2006–07 season, Nowitzki became only the fifth member of the NBA's 50-40-90 Club for players who shot 50% or better from the field, 40% or better on three-pointers, and 90% or better on free-throws in a single season while achieving the NBA league minimum number of makes in each category. LeBron James called Nowitzki's one-legged fadeaway the second most unstoppable move ever, behind only Kareem Abdul-Jabbar's skyhook. Nowitzki is the only player to record at least 31,000 points, 10,000 rebounds, 3,000 assists, 1,000 steals, 1,000 blocks and 1,000 three-point field goals.
Dirk wore this jersey during the March 26, 2013, victory over the L.A. Clippers, scoring a season-high 33 points. Nowitzki passed Patrick Ewing for 17th on the all-time scoring list in the first quarter when he scored his 24,816th point. Nowitzki autographed the jersey in silver paint pen.
Luka Dončić Signed Jersey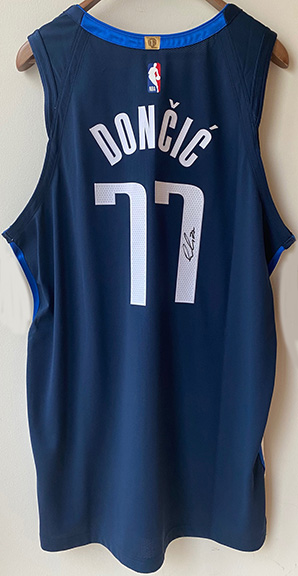 This official jersey was signed by Luka Dončić on November 9, 2019, outside the arena in Memphis before the Dallas Mavericks game that evening. Luka had been named Rookie of the Year just a few months prior. The signature reads, "Luka 77" and is accompanied by a photo of him signing autographs, taken by the man who got this jersey signed.
OTHER ITEMS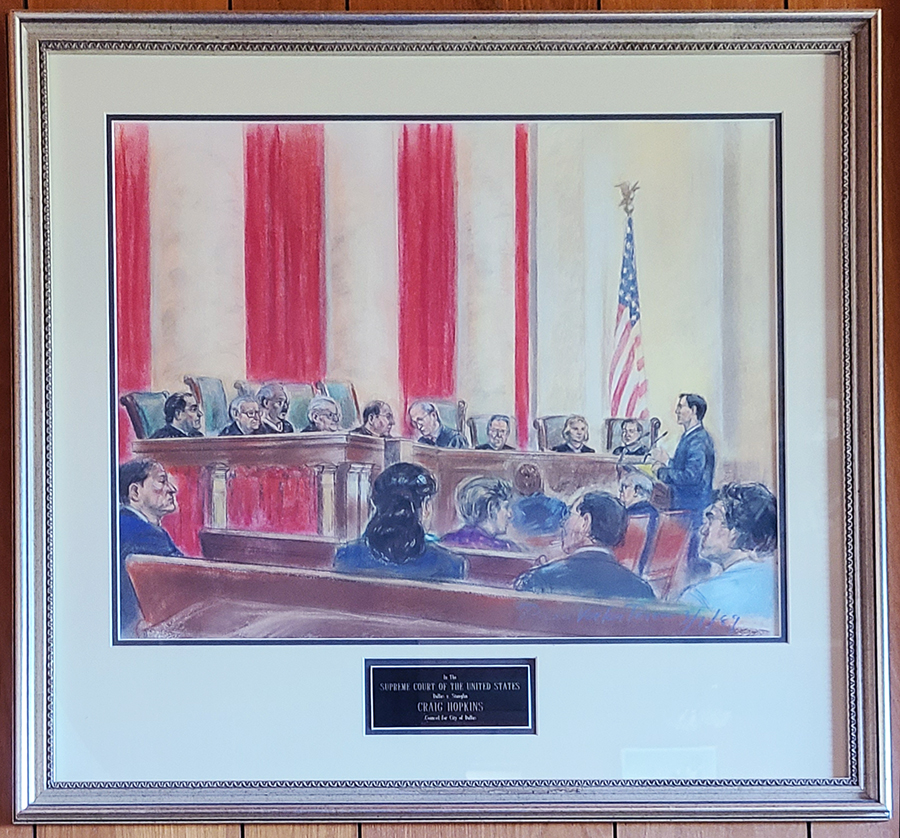 A real courtroom drawing of argument in the United States Supreme Court by noted artist Dana Verkouteren. This was done in 1989.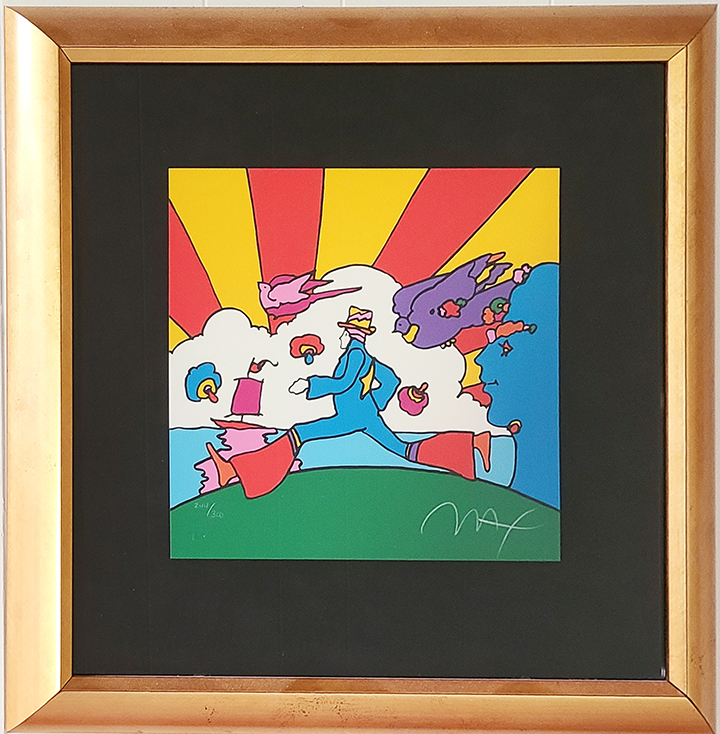 Limited edition lithograph "Cosmic Runner" by pop artist Peter Max. I bought this at a gallery in Cleveland during the Grand Opening of the Rock and Roll Hall of Fame in 1995. I was there on a press pass to shoot images for a touring industry magazine that my friend worked for. We stumbled on Peter Max coming out of the gallery in the mall late one night, and he gave us invitations to the exhibition opening the next day. He drew a personalized sketch on the back of the frame. I met Peter again 20 years later in Missouri at another exhibition opening.